Minnie Driver On Misery Of Early Fame: 'I Dropped Down To 98 Pounds'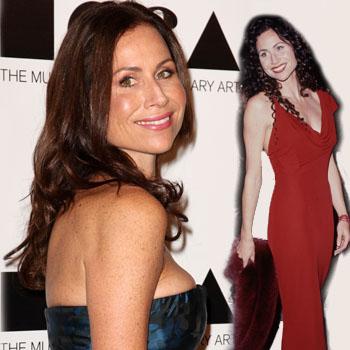 She may not have struggled with drug or alcohol addiction like many Hollywood stars, but Minnie Driver lived through her own personal hell, dealing with early fame!
In a new interview, the Academy Award nominated actress reveals shocking new details about her struggles in Hollywood during the 1990s that resulted in her dropping down to only 98 pounds, and how she got her life back on track with the help of her sister.
Article continues below advertisement
"I definitely went a bit bonkers in my early 20s, when I got famous quite quickly," she explains to Britain's Stylist magazine about her instant rise to stardom after 1997's Good Will Hunting. "Bonkers in a way where I didn't eat enough, I drank too much coffee, smoked too many cigarettes, cried a lot and was very emotional."
Thankfully for Minnie, her sister, model and producer Kate Driver, came to her rescue.
"My sister showed up one day and said, 'I don't recognize you. You weigh 98 pounds and you're behaving like an idiot.' I came back to England and sorted myself out. Hollywood is portrayed in this super glamorous way, but when I see pictures of actresses going off the rails, it doesn't surprise me at
all. You have to have solid family and friends."
Driver, who has a 3-year-old son, Henry, and is currently dating male model and actor Matthew Felker, is currently in the process of penning an autobiography.