Michelle Obama Says President Sings To Her All The Time, Calls Mitt Romney's Performance 'Beautiful'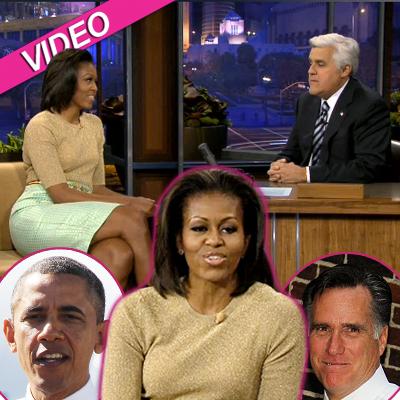 Perhaps The X-Factor can call Michelle Obama to fill one of their vacant seats on the judges' panel.
The First Lady, appearing on The Tonight Show on Tuesday, shared her thoughts on recent singing performances delivered by her husband, President Barack Obama; and one of his political rivals, Republican Mitt Romney.
She told Jay Leno the president's rendition of Al Green's Let's Stay Together during a fundraiser at the Apollo Theater in Harlem, New York last month "was completely spontaneous.
Article continues below advertisement
"I didn't even hear about it until I heard about it on YouTube. But he does have a beautiful voice," she said. "He sings to me all the time -- he sings that song! That's why when people said he sang, I said, 'I bet he sang Al Green.'"
The first lady said the commander-in-chief is partial to echo the sweet sounds of R&B icons such as Green, Marvin Gaye and Stevie Wonder.
"He likes the classics," she said.