President Barack Obama, Arizona Governor Clash In The Desert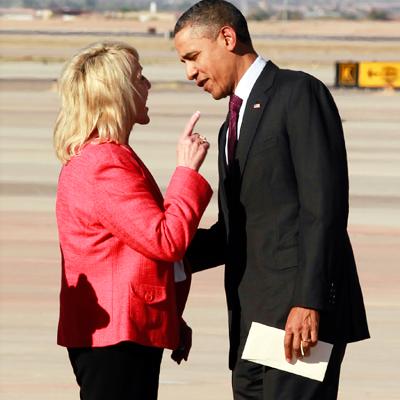 President Barack Obama and Arizona Gov. Jan Brewer had a finger-pointing tête-à-tête in front of Air Force One near Phoenix Wednesday, as the commander-in-chief was none too pleased about the Republican's harsh words about him in her memoir, Scorpions for Breakfast.
While they smiled as they conversed, things seemed to get heated as Brewer -- a noted opponent of immigration -- at one point, wagged her finger in his face.
Article continues below advertisement
Brewer later said Mr. Obama was "a little disturbed about my book" in which she claims the commander-in-chief, during a 2010 discussion at the White House over immigration, was condescending to her.
The Obamas Pose For A New Family Portrait
Brewer wrote in the book, "I felt a little bit like I was being lectured to, and I was a little kid in a classroom, if you will, and he was this wise professor and I was this little kid, and this little kid knows what the problem is and I felt minimized to say the least."