That's Not Very Maternal! Madonna Cut Lourdes' Scenes From New Movie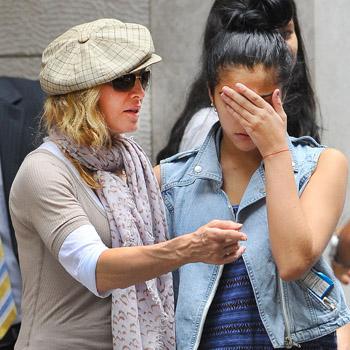 Madonna lets her directorial instincts take over from her maternal ones when it comes to the art of movie making.
The material mom confessed to MTV News that she cut her own daughter, Lourdes' scenes from her new flick W.E., which tells two parallel stories relating to the late and infamous Wallis Simpson.
"There was a scene where she played Wally as a young girl," Madge dished, describing what would have been Lourdes' role as the young version of Abbie Cornish's character, Wally — a present day woman obsessed with the romance between American divorcée Wallis Simpson and King Edward VIII of England. "And I just kind of dragged her in at the last minute. It was quite unfair of me what I did and what I asked her to do."
Article continues below advertisement
Even less fair it may seem, Madonna explained that her daughter's big screen acting debut will never actually see the light of day — However, the teenager has no hard feelings.
"She was really great and then I ended up cutting her out of the film. Ruthless, I know!" Madonna quipped. "I said, 'Sorry babe, you're on the cutting room floor.' She took it like a champ."
Well, that's show business!
As RadarOnline.com previously reported, Madonna recently confessed to identifying on a personal level with the late scandal ridden Wallis Simpson.
In her time, Simpson was a figure that was vilified by the masses after her affair with Edward VIII led to his abdication of the throne of England, something Madonna, who has been vilified for her new movie, amongst other things, relates to.
When asked if she identifies with Simpson on a "personal level" the Queen of Pop admitted: "Yes, to a certain extent. I think that she didn't have the ability to defend herself the way I do now, or we do now. It was a different time. The media was different, and women didn't have the choices that they do now. Even so, there were moments, there were lines in her letters that I thought, 'I could have written that.'"
Article continues below advertisement
When questioned as to why she feels the connection, Madge shares: "Just the experience of being treated unfairly in the press, not having a nice word said about you. There was a time where I actually read what people wrote about me, and that's a slippery slide to get on. So, if you do that, and you're doing something controversial or unpopular, then you're just going to be reading a bunch of stuff that isn't nice about you. I certainly know that feeling of devastation, like 'Oh, my God, the whole world's turned against me.'"