Illinois Teen Overcomes Parents' Cancer Battles To Become Star Wrestler And Serve Country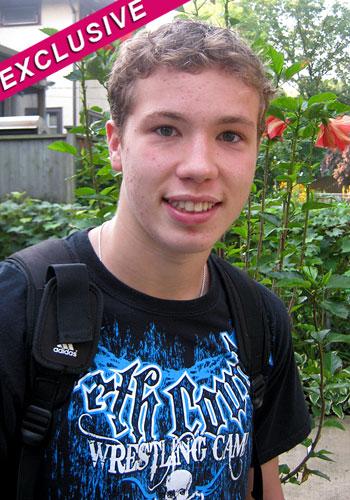 By Debbie Emery - RadarOnline.com Reporter
Most aspiring high school athletes grew up kicking soccer balls around or practicing their wrestling moves with their dads, but Michael Woulfe had a different kind of bonding with his parents, who were both diagnosed with cancer when he was a small child.
The 17-year-old from Oak Park, Illinois, has overcome adversity that would have beaten the spirit of many adults and has grown up to become not only a valedictorian of his high school, but also a varsity wrestler, and has now been accepted in the U.S. Naval Academy.
Article continues below advertisement
Michael's esteemed sporting and academic achievements are even more impressive considering his father, Brian, was diagnosed with Mantle cell lymphoma when his youngest of three sons was just six, and then mom, Nancy, began her battle with breast cancer two years later.
"I was really little when my parents got sick, I was so young so it's always been part of my life," Michael told RadarOnline.com in an exclusive interview.
"As far his memory goes, cancer is just part of what we did," dad Brian explained to RadarOnline.com, going on to reveal that even though he couldn't hit balls with his son in the backyard, Michael didn't miss out on America's favorite pastime.
"Nancy's father was a huge baseball fan and gave him that love of the game," he shared. "His mom was always determined to be at as many Little League games as possible even if she had to wear a scarf on her head after getting chemotherapy."
Article continues below advertisement
When Michael was 11, his dad underwent a stem cell transplant that meant they could spend even less time hanging out together because of the risk of infection. "I had to do 100 days of isolation, most people do it in a hospital but we did it from my house. We sealed off the bedroom and bathroom, and I wore a mask when I left those rooms," explained Brian.
With the help of his big brothers, David and Patrick, as he got older Michael discovered his love of wrestling and become a member of the Oak Park-River Forest team.
"I am a very competitive person by nature, having two older brothers who want to beat you and you want to beat them," he explained. "My mom has always expected excellence from us, her standards are high and she taught me to set mine higher."
In a tragic twist of fate, a third important person in his life is also suffering from a terminal illness, as wrestling coach Mike Powell was been diagnosed with a deliberating disease that destroys his muscles.
Article continues below advertisement
"He would tell us these incredible feats of strength he would do but then couldn't walk without a cane or get up stairs. He was so full of energy and so strong, you believed he was invincible so to see him devastated by disease was heartbreaking," Michael said.
Powell has now regained much of his strength despite 40 per cent of his muscle being destroyed, and says that his hero is Michael.
"It's hard to admit as a 35-year-old man that you look up to a 17-year-old kid, but I do," said the Oak Park-River Forest wrestling coach.
" I don't feel like I should be an inspiration," responded Michael modestly. "To see him come back is a great inspiration to everyone around him. "I feel like he thinks I am a much greater kid than I do."
Michael's next challenge will be to prove he is not a kid anymore. After being nominated by congressman Danny Davis, he will be packing his bags two weeks after his high school graduation in June and moving into the U.S. Naval Academy in Annapolis., Maryland.