Exclusive
DJ Cobra Clutches International Success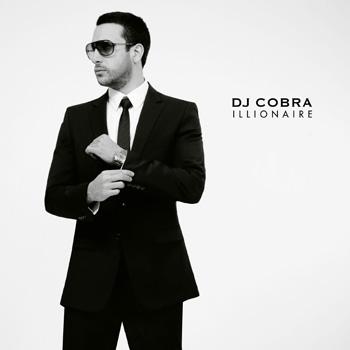 By Adam S. Levy - Radar Staff Writer
Passionate, intelligent, studious and ambitious, DJ Cobra is an emerging mainstream talent, performing high-profile gigs internationally and working alongside some of Hollywood's brightest stars, including Lady Gaga, P. Diddy and Paris Hilton.
We caught up with the 30-year-old Los Angeles native, whose real name is Andrew Bagg, as he kicks off a residency at The Bank at the Bellagio every Friday beginning this week, and prepares to open two nightclubs in Los Angeles this summer.
Article continues below advertisement
We hit on a number of topics, from working alongside the rich and famous to the craft of being a DJ and what it takes to succeed.
Radar: How did you get the name DJ Cobra?
DJ Cobra: It was always a temporary name. It was never designed to be a permanent name. I was real young ... me and my buddy were aspiring DJs, still in high school. We needed a name because we wanted to record ourselves. Anyways, Cobra came from GI Joe -- the bad guys in G.I. Joe, and the Karate Kid, are named cobra ... I was kind of inspired by those two things. The name was always a place holder, but it stuck as time went on.
Radar: Of all the A-listers you've rubbed elbows with, who's the most down-to-earth?
DJ Cobra: It's hard to say ... a lot of them are cool ... there's a few sides to people with their public persona, in how the world perceives them, and then their private character. Essentially, they're just regular people, working stiffs -- it just happens to be what they do. I guess it's who's let it go to their head.
Article continues below advertisement
Radar: From one glance at your schedule it's clear you're constantly on the road doing gigs. What drives you to such a breakneck pace?
DJ Cobra: I'm always improving -- my feeling's always like, the rug's about to be pulled from underneath me. It's not about greed, it's not about ego, it's about maximizing my potential.
Radar: How do you get ready for a performance?
DJ Cobra: I don't prepare my set. I have no idea what I'm gonna play on any given night. Maybe it's combinations, maybe it's wordplay, maybe it's in the same key. You need to be able to connect with your audience in real-time. I'm choosing my playlist based on reading the crowd, from house music to corporate engagements. The thing is, you're never gonna be able to please everyone. The goal is when you DJ is to find that happy medium in a room with anywhere from 100 to 2,000 people.
Radar: Tell me about your brush with Lady Gaga prior to her breakout.
DJ Cobra: My first interaction with her was when my friend George, from Interscope Records, brought her to one of the clubs I was working at. He was begging me to play the song "Just Dance," he wouldn't leave the DJ booth until I did. I was hesitant -- because what I've learned from experience, is that people won't dance to a song they don't know if they can't sing along with it -- but I played it.
Article continues below advertisement
It was the first time she heard her song played in a public setting. The next time around, I performed with her a month later, and no one knew who she was yet, but she was in full Gaga gear with back-up dancers and the crowd just ate it up, they loved her.
Radar: Thoughts on Lady Gaga's success?
DJ Cobra: I've seen a lot of people come and go ... I'm generally very skeptical and hesitant of anyone's chances making it big. With Gaga, I thought she might be too avant-garde. The record label actually gave up on the project at one point, bust she kept pushing. She knew what she wanted from day one, knew her goal and it took a lot of work.
Radar: Who are your role models in the entertainment business, or those you admire?
DJ Cobra: As far as DJs, I'm impressed by Tiesto and David Guetta. The most notable DJ was AM: He was incredibly talented, someone I was very inspired by. Ryan Seacrest, he's someone that I admire. His work ethic, it's amazing, he can do so many things, day in and day out, and always be in good spirits, be chipper ... it can be really draining. I admire his passion and drive.
Article continues below advertisement
Radar: Favorite cities to DJ in?
DJ Cobra: My favorite place, hands down, is Cancun, every year during spring break. The scale of the clubs in Cancun are massive, that's always a good time. Vegas is always great too. It's more so about the energy and the crowd, as opposed to, "So-and-so's in the building." In a lot of the clubs, everyone's on their Blackberry, so sometimes it's a challenge to distract them from that. I love New York, Los Angeles and Miami, as well.
Radar: What three songs are surefire hits to liven up a room?
DJ Cobra: There's a few songs .... Michael Jackson's "Billie Jean," it just works. There's a reason why that song still transcends culture and time: It's a timeless, classic record. I know no one's gonna hate me for playing "Billie Jean." The biggest hip-hop record is Kanye West and Jay-Z's "N****s in Paradise." It's the only record some crowds would be happy if I played back-to-back-to-back-to-back. Marvin Gaye "Got To Give It Up" and 50 Cent's "In the Club" also come to mind.
Article continues below advertisement
Radar: What is your favorite genre of music to spin on the dance floor?
DJ Cobra: Well, 80s music has always had a special place in my heart. It's the only music everybody likes -- there will never be another Michael Jackson, never be another Prince. The 90s in comparison were kind of about counter culture, repressed energy.
For more on DJ Cobra, check out his website at www.DJCobra.com.
Friend DJ Cobra on Facebook.