Oscars: The Artist, Meryl Streep & Hugo The Night's Biggest Winners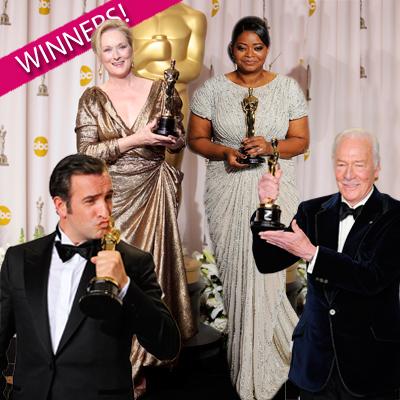 The Artist was the big winner at the 84th Academy Awards at Hollywood's Kodak Theater Sunday, as the silent film won five awards, most notably Best Picture, Best Director for Michel Hazanavicius, and Best Actor for leading man Jean Dujardin.
"I love your country," Dujardin, the first native of France to ever win the award, said after his Excalibur moment. "So many of you here tonight have inspired me."
Article continues below advertisement
The hunk later said that despite his critical success, don't expect to see him relocate to Hollywood anytime soon.
"I'm not American actor. I'm a French actor," he said.
For a full list of winners, click here.
The black-and-white film rounded out its five honors on the night with wins in the costume design and original score; also taking home five gold men was Martin Scorsese's Hugo, with the 3-D movie cleaning up with the technical honors for cinematography, art direction, sound mixing, sound editing and visual effects.
Watch the video on RadarOnline.com
And it was certainly a huge night for the great Meryl Streep, as the screen veteran took home Best Actress for her dazzling performance as ex-British Prime Minister Margaret Thatcher in The Iron Lady.
With a record 17 nominations, Streep -- whose last Oscar win came 30 years ago, with 1982's Sophie's Choice -- edged out Viola Davis's critically-acclaimed role in The Help.
Article continues below advertisement
"When they called my name, I had this feeling I could hear half of America going, `Oh no... her again,'" the now-three-time winner (she also won for Kramer Vs. Kramer and Sophie's Choice) joked.
"I really understand I'll never be up here again. I really want to think all my colleagues, my friends. I look out here and I see my life before my eyes, my old friends, my new friends," she said in her speech. "Really, this is such a great honor but the think that counts the most with me is the friendship and the love and the sheer job we've shared making moves together."
Article continues below advertisement
Spencer made mention of skeptics who thought she would not be able to win because of her thick frame, saying, "I hope that in some way I can be some sort of beacon of hope, particularly because I'm not the typical Hollywood beauty."
Plummer accepted his award with class and humor.
Did Jennifer Lopez Have A Nip Slip At The Oscars?
"I have a confession to make: When I first emerged from my mother's womb, I was already rehearsing my Academy thank-you speech," the 82-year-old Canada native joked. "It was so long ago, mercifully for you, I've forgotten it.
"To my screen partner, of course, Ewan McGregor, that superb artist who I would happily share this with if I had any decency -- but I don't," Plummer joked. "And to my long-suffering wife, Elaine, who deserves the Nobel Peace Prize for coming to my rescue every day of my life."
Sunday's show also marked the return of Billy Crystal to hosting duties, and the funnyman didn't fail in reviving his patented song-and-dance shtick describing the nominees.