100 Year Old Couple Celebrate Valentines With Daily 'I Love You'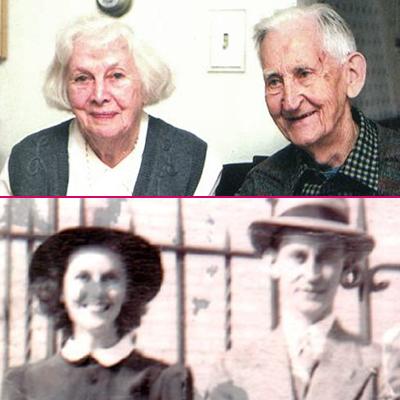 By Debbie Emery - Radar Reporter
A 100-year-old couple have proven that love has no expiration date as they celebrate a century of life each and almost 71 years of marriage this Valentine's Day.
But Grayce and Clarence Dwyer, of Madison, New Jersey, don't need Hallmark to tell them when to express their devotion to each other, reported ABCNews.com.
Every day they start each conversation with, "I love you," to which the other replies, "I love you more."
Article continues below advertisement
The mobile century-old couple still live in their own home together and get around easily with the help of an aide and a pair of walkers, but when the time comes to "go home," the religious couple plan to do it together, as Grayce has promised to follow Clarence "Like the tail of a kite," to heaven.
Both born to Irish immigrant families, they lost their fathers in the 1917 flu epidemic on the exact same day, and were raised by young, widowed mothers. After meeting at a dance in Brooklyn, Grayce and Clarence felt an instant bond and were married in 1941.
"We just always got along -- we came from similar lives," said Grayce. "We were raised by mothers who taught us what was important to have a valuable life, simply put -- take care of each other and your family.
"Life was not meant to be easy, so you surround yourself with good people and always have a strong faith that will help you through the hard times," she explained.
The Dwyers have succeeded in epitomizing the American Dream by raising four children, 17 grandchildren and 12 great-grandchildren through a life of devotion to their family and faith.
Article continues below advertisement
"We believe it is a testament to the love they have for each other," said their daughter Donna Dwyer Streaman, who is in her 50s.  "But it's very sad for me to look at them now at the end of their life.
"Their mothers were survivors and taught them important values such as family, a strong work ethic, and being grateful for every day and moment you have," she explained.
"Mom will say, 'I think it is probably remarkable that we are still here with each other and able to speak about the old days and laugh about the good times we had together and with our family."