Vienna Girardi Hooks Up With Ex Boyfriend - The Same Guy She Once Had Arrested!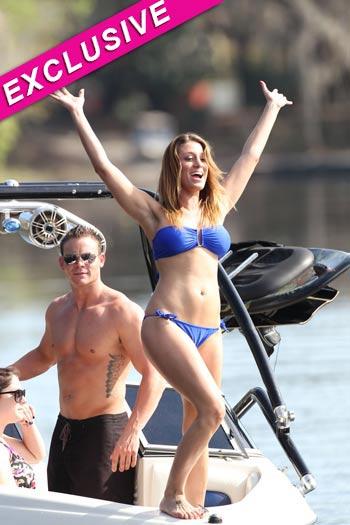 'Bachelor' vixen Vienna Girardi has apparently moved on from ex-boyfriend Kasey Kahl by hooking up with her old flame Brian Lee Smith -- yes, that's the same guy she once had arrested!
The on-again/off-again pair were photographed in Miami on Tuesday showing a lot of skin in their swimsuits as they hung out on a boat.
Vienna recently split from Kasey, who she met when they both appeared on ABC's Bachelor Pad 2 last year after her nasty breakup with pilot Jake Pavelka, who proposed to her on the 14th season of The Bachelor.
Article continues below advertisement
EXCLUSIVE PHOTOS: Bachelor Reunion Pics
Vienna was reportedly reunited with Smith (who goes by his middle name Lee) while she was taping yet another reality TV show, VH1's upcoming Relationship Rehab.
Vienna was there to try and work out her issues with Kasey when producers reportedly surprised her by bringing in her ex, Smith, who she dated just prior to taping The Bachelor, which premiered in January, 2010.
Although she later denied it on Twitter, Vienna was said to be upset to see Smith. In any event, they apparently worked out their past differences, which is amazing seeing that Vienna called the cops on him in October, 2009 -- a story first reported by RadarOnline.com.
As we previously reported, according to a police report obtained by RadarOnline.com, Smith was at Vienna's parent's front door in Florida around 4 am on October 10, 2009, and when he wouldn't leave, police were called. When officers arrived on the scene Smith ignored their instructions.
Article continues below advertisement
The police report says: "Smith also opposed our efforts by repeatedly attempting to charge the occupied dwelling and actively made aggressive attempts to get to the front door of the house."
The incident was listed as alcohol related on the police report and Smith was arrested for trespassing and resisting an officer obstruction without violence.
RadarOnline.com learned that Smith entered a Pre-Trial Diversion Program for the trespassing charge and was fined $300 plus a $50 prosecution fee. He was ordered to complete 10 hours of community service and take an anger management class.
At the time, Smith was ordered not to return to the address of the incident, Vienna's parent's home. No action was taken on the resisting and officer obstruction without violence charges.
In a previous interview with RadarOnline.com, Smith dished on the couple's hot and heavy relationship.
Smith says, just two weeks prior to Vienna starting to tape The Bachelor, she wanted to marry him.
"She asked to marry me two weeks before she went on the show," Smith told RadarOnline.com in an exclusive interview in July, 2010. "She asked me to put a ring on her finger."
Article continues below advertisement
Smith and Vienna had been dating on and off for four years in their hometown of Orlando, Florida and were even living together just one week before she flew to L.A. to film The Bachelor.
Smith also told us he had been in contact with Vienna -- who's been accused of being obsessed with him -- throughout her engagement to Pavelka and that they even rekindled their physical relationship just 10 days prior to her break-up with Jake.