When Ya Gotta Go, Ya Gotta Go! Seth Rogen Relieves Himself.... In Tom Cruise's Driveway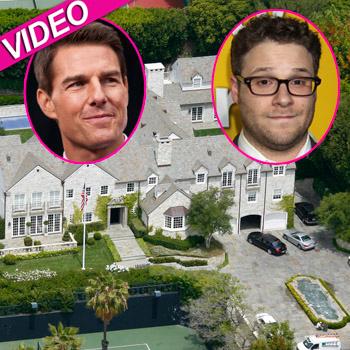 By Adam S. Levy - Radar Staff Writer
When ya gotta go, ya gotta go -- even if you happen to be in the driveway of one of the biggest movie stars ever!
Seth Rogen told Howard Stern on Monday he once relieved himself in a Snapple bottle while parked in Tom Cruise's driveway, awaiting a meeting with the perennial A-lister.
Rogen said the unlikely joining of forces came at a time Cruise was warming up to top comedians while preparing for the film Tropic Thunder. 
Article continues below advertisement
Rogen, who was joined by comedy collaborator Judd Apatow for the meeting, told the King of All Media he was nervous and uncomfortable prior to meeting the enigmatic mega-star, so he didn't want to impose by entering the house early to use the bathroom. (He left the bottle in his car.)
"Have you peed in any other celebrities driveways?" Stern asked him. "Have you ever defecated in a Snapple bottle?"
"You know, it would be really horrible if you got stuck!" Stern's sidekick Robin Quivers told Rogen, who added Cruise was "very nice and hospitable" during the meeting.
Fun fact: Stern helped put Snapple on the map, as he was a pitchman for the company in the early 90s, prior to their boom.
Hear the clip on RadarOnline.com below (Warning: Audio contains graphic language.)
Tom Cruise Gets A Box Office Win For Christmas
Tom Cruise Says Suri Was 'Born' With Her Fabulous Sense Of Style