Exclusive
Murdered Park Ranger Margaret Anderson was 'An Amazing Mom,' Says Relative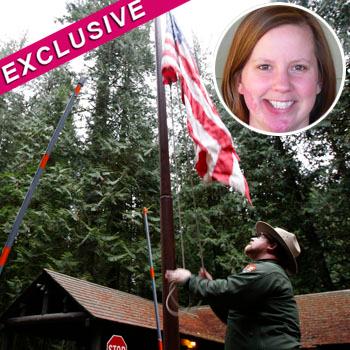 The mother-in-law of murdered park ranger Margaret Anderson has spoken exclusively to RadarOnline about what an amazing mom she was.
Cynthia Anderson says her son Eric is "devastated" by the loss of his wife and says that Margaret was a wonderful woman.
"I last saw Margaret in September when she came to visit us in Massachusetts," Cynthia shared. "She loved the outdoors and we did lots of things together with the kids."
Article continues below advertisement
Margaret and Eric, who also worked as a park ranger, were married for six years and are parents to Anna, who turns 4 next month, and Katie who will be 2 in May.
"She was an excellent wife, great daughter-in-law, and a loving mother," Cynthia added. "Now those two precious girls have to grow up without a mother. It's devastating.
"Eric is doing as well as can be expected. He has people around him helping to support him. We are a close family."
Margaret was gunned down at Rainier National Park early Sunday morning. Iraq war veteran Benjamin Colton Barnes, 24, is the only suspect. A body believed to be his was found Monday in the deep snow.
As RadarOnline.com reported, a gunman fired shots at Anderson and another the ranger.
Anderson would have been armed, explained Park spokesman Kevin Bacher. She was one of the rangers tasked with law enforcement, but she was shot before she had even exited her vehicle.
Article continues below advertisement
Police also wanted to speak to Barnes with regard to a shooting at a house party late Sunday night in Skyway where four people were left wounded, two of them are in critical condition.
Court documents show that Barnes was involved in a custody dispute in Tacoma last July and his toddler's mother sought a temporary restraining order against him.
In her declaration, she said it was possible Barnes was suffering from PTSD and was suicidal following his deployment to Iraq from 2007 to 2008, and kept a lot of weapons at his home, was easily irritated and depressed.