Heather Locklear & Jack Wagner To Meet With Prosecutors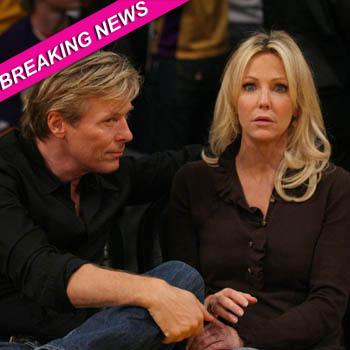 By Jen Heger - Radar Legal Editor
Former lovers Heather Locklear and Jack Wagner are scheduled to meet with the Los Angeles City Attorney's Office for a office hearing to determine if misdemeanor battery charges will be filed against them after an argument that turned physical, RadarOnline.com is reporting.
As we previously reported, Days before Locklear was rushed to the hospital for mixing prescription pills and booze the 50-year-old beauty had a blowout altercation with ex-fiancé, Jack Wagner, after he drove to her Sherman Oaks, California home to return some belongings.
Article continues below advertisement
"A huge argument erupted as they insulted each other's families," a source exclusively told Star. "As Heather went to her car, Jack lunged at her, trying to grab or push her. Her reaction was to swing.
"She caught Jack with a right hook across his face, knocking him to the ground."
Wagner, 52, then put his hands around her and Heather slammed into the car, while he ran into the house, revealed the insider.
According to Star's source, the drama didn't end there. The police arrived and after speaking to them both they realized the gash across Wagner's face was caused in self-defense. "Heather didn't want to press charges, so she left."
The Los Angeles City Attorney will meet behind closed doors with Locklear and Wagner for an office hearing. Both will have lawyers present, and there will be at least one prosecutor present. According to a spokesperson for the Los Angeles City Attorney, "a date has been set for the matter, but won't be made public. Our office could decide to file a misdemeanor battery charge against one or both parties, or the matter could be resolved without any charges being filed at the conclusion of the hearing."