Forget Daddy's Girl! Halle Berry's Daughter Kisses Mom's Boyfriend Olivier Martinez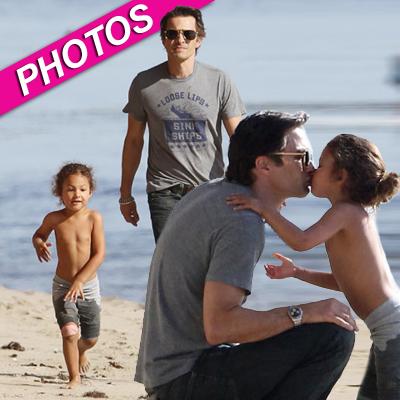 As her warring parents prepare to do battle in court, Nahla Aubry showed off that she definitely approves of mom's new boyfriend, Olivier Martinez.
The super cute little girl spent the day at the beach Sunday with mom, Halle Berry and her hunky French beau, and at one point was spotted leaning over and planting a kiss on Olivier.
Already acting the role of devoted stepfather, Martinez happily watched Nahla as she played on a tire swing and built castles in the sand.
Article continues below advertisement
Despite wearing a cast on her foot, mom wasn't left out of the fun, with Nahla climbing all over her and showering her with kisses.
It was a fun family scene far removed from the tension that is bound to be present in court when 45-year-old Halle faces off against 36-year-old Gabriel Aubry in their ongoing bitter custody battle.
As RadarOnline.com previously reported, The Los Angeles Department of Children & Family Services is recommending that Halle and Gabriel take parenting classes together.
Meanwhile, the Academy Award winning actress and the Canadian model will be in a Los Angeles courtroom Monday, as Berry continues her battle to have Aubry stripped of visitation of their three year old daughter, Nahla.
Halle wants Gabriel out of the picture because of allegations he pushed their daughter's nanny while she was holding Nahla.
However, Gabriel totally denies the accusations, and a source tells RadarOnline.com: "Why in the world would Gabriel push the nanny causing her to fall while she was holding his daughter? Gabriel is fiercely protective of Nahla.
Article continues below advertisement