How To Get Ashlee Greene's People's Choice Look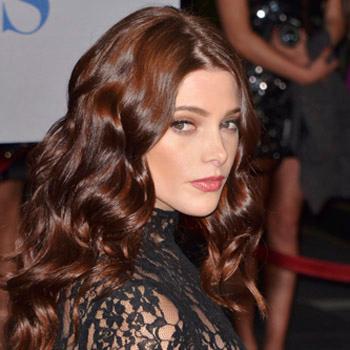 By Leah Ornstein - Radar Style & Beauty Editor
Whether you loved or loathed Ashley Greene's leather and lace custom DKNY dress at the 2012 People's Choice Awards on Wednesday night, it was undeniable that the Twilight star looked flawlessly faced and absolutely gorgeous when it came to her hair and makeup – and RadarOnline.com has all the details about how to get her beauty look from her hairstylist and makeup artist!
Article continues below advertisement
The inspiration behind Ashley's do, was a "do it yourself sort of look that still maintains a healthy appearance as well as a ton of glamour," explains Paul Norton, Ash's stylist.
As for her makeup, the mark Brand Ambassador turned to makeup artist Vanessa Scali to give her a glam but understated look.
"Ashley wanted a hint of smolder in the eyes but didn't want anything dark or overdone. We decided to go with bold brows, a sexy wash of bronze on the eye and subtly stained red lips," explains Scali, who exclusively used mark products on Ashley's face.
Keep reading for step-by-step instructions on how to recreate Ashley Green's gorgeous look!
How To Get Ashley's Hair:
On wet hair, use a generous amount of Joico's Body Luxe design foam throughout, from the middle of hair to the ends and scrunch it into the damp hair.
Then, randomly take pieces of hair and wind them roughly around your finger in different directions in a dreadlock fashion.
Next, defuse the hair to create a rough natural texture without making the hair too full. Be sure to flatten and smooth the root area with your hands to avoid any root volume.
Article continues below advertisement
Once the hair is fully dry, begin taking 2-inch sections from the back of the hair at the nape spraying each section with Joico's K-pak protective hair spray. Then, wrap each section around a 1-inch iron stopping about an inch and a half away from the ends, leaving them straight. With each section of hair, alternate from a 1-inch iron to a 1 1/2-inch iron, so that the look doesn't seem too forced and structured .
Once you are done curling the entire head, lightly dab Joico's K-Pak protect and shine serum on them on the straight ends of the hair. Then, gently run your fingers thru the hair in a comb-like fashion and twist some more random pieces for a little more interest. Finally, seal the deal with Joishape shaping and finishing spray to hold your shiny locks in place!
Step-By-Step Guide To Ashley's Makeup:
Article continues below advertisement
Face:
"I started by adding a bit of foundation and concealer to Ashley's skin where needed using mark Min-A-Real Cream-To-Powder Foundation and mark Conceal For Real Long-Lasting Hook Up Concealer. To warm up Ashley's skin tone and accentuate the contours of her face, I added mark Matte-Nifficent Oil-Absorbing Powder and dusted mark Bronze Pro Bronzing Powder to her temples, under her cheekbones and chin. Then I used mark Touch & Glow Shimmer Cream Cubes All Over Face Palette to add a sheer, luminous glow to her cheekbones, brow bones and a touch on the bridge of her nose."
Cheeks:
"For a soft, healthy flush, I used my fingers to apply a little of mark Just Pinched Instant Blush Tint in Peachy to the apples of Ashley's cheeks."
Eyes:
"I started by sweeping mark I-Mark Metallics Custom Pick Eye Shadow in Truffle all over Ashley's lid and under her bottom lashes, blending to sheer at the crease and extending outward to elongate the eye. Next, I applied mark No Place To Run Longwear Eyeliner in Jet Set and Foxy Brown to frame her eyes and give them a feline resemblance. As always, I finished Ashley's look by applying mark Lash All You Want Mascara in Black to make her eyes a stand out feature."
Article continues below advertisement
Brows:
"I strengthened Ashley's brows, making them bolder and lengthening them with mark Brow Factor Hook Up Clear Brow Gel."
Lips:
"Using my fingers, I applied mark Lipclick Full Color Lipstick in Cha Cha to the center of Ashley's lips, gently pressing the color in and blending outward toward the edge, giving the lips a pop of color but keeping the line soft and easy."
RELATED STORIES: