The Devil Inside Star Scares Up Gym Goers At 220 Fitness Opening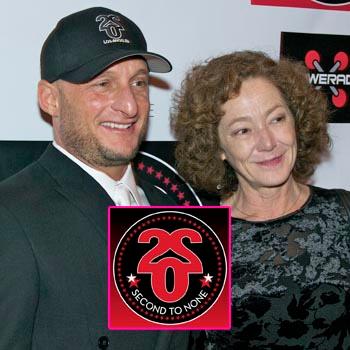 By Debbie Emery - Radar Reporter
Horror hit The Devil Inside had millions of movie goers shaking in fear when it topped the U.S. box office earlier this year, but RadarOnline.com has exclusively learned that one of the film's stars is far less frightening in real life than on the big screen.
Guests at the 220 Fitness 1st Year Anniversary Party in Santa Monica, Calif., were surprised on Thursday to spot the woman of many a nightmare, Maria Rossi - the mother who killed three church members during her own exorcism, according to the scary tale - in the flesh and blood.
Article continues below advertisement
"Wow, this is scary, this place is packed. I thought I was the scary one!" joked Suzan Crowley, the British actress who played Rossi on the big screen, when she joined the crowds celebrating the success of the state of the art gym.
"I'm a huge supporter of gyms everywhere. I do really like this gym, I would join!" The Devil Inside star told RadarOnline.com in an exclusive interview.
As RadarOnline.com previously reported, The Devil Inside has caused many a sleepless night due to its realistic, spine-tingling plot about a woman who meets four powerful demons when she travels to Italy to discover whether her mother, played by Crowley, was really possessed by a supernatural force that led her to commit a grisly murder.
"It was fantastic fun making it. It's a great story because of the genre that they filmed it in," explained Suzan. "You think it's a documentary until you meet my character, and then you think 'Oh no, maybe it's not.'
"I am surprised about how scared it's gotten everyone. I hope you are scared when you watch it!"
What the English actress did expect was the phenomenal success of the horror flick. "Paramount did a fabulous online marketing job and by Halloween the trailer on YouTube had 3.5 million hits already, which was an indication that it was going to do well," she explained to RadarOnline.com.
Article continues below advertisement
Joining Crowley at the VIP event were 220 Fitness CEO Matteo Baker, Smallville star John Schneider and Emmy nominated animator Todd Waterman, along with members who enjoyed the perks of unique classes like Karaoke Cycle and Kangoo Bootcamp, elite personal trainers, and the chance to work up a sweat next to celebs such as Don Cheadle, Rhada Mitchell, heavyweight world champion Wladimir Klitschko, and Mickey Rourke.
Guests at the party, which was produced by peakPRgroup, sipped on Ultimat Vodka Honest Ade 220 martinis, Heineken, ONEHOPE wine, Emergen-C, smartwater and Powerade zero, while bidding on items in the silent auction to benefit the ONEHOPE Foundation in partnership with the American Red Cross, and listening to tunes spun by DJ Noel.
RELATED STORIES:
Get Flexible! Yoga Instructor Shows Off Her Contortionist Body