Get Flexible! Yoga Instructor Shows Off Her Contortionist Body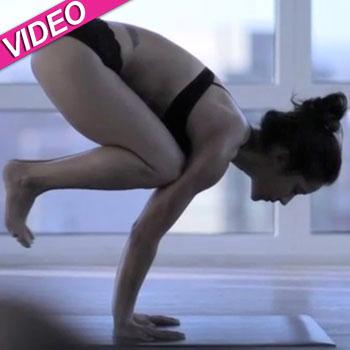 By Leah Ornstein - Radar Style & Beauty Editor
If getting into yoga was one of your New Year's Resolutions, then we have a little inspiration for you!
Equinox Yoga Instructor Briohny Smyth, wearing only a bra and panties, is featured in a new video, The Contortionist, that has become a YouTube sensation with more than 1.3 million hits in less than two weeks – and RadarOnline.com has the video of the fitness guru bending her unbelievable body into gravity defying ways.
Article continues below advertisement
Smyth, who has been a devoted Yogi for more than 15 years and teaches classes at their Los Angeles clubs, proves with her flexible moves that there is no limit to what the yoga body can do – and she also looks sexy while doing it!
But you won't be able to try these moves at home until you master the basics and devote yourself to the craft!
"I see so many people just pop into yoga classes once in a while, but they never get anywhere. They could never get to the arm balance stage, because they don't do the work. You gotta do the work," Lashaun Dale, national creative manager of group fitness for Equinox, told Q, Equinox's blog.