Chuck Lorre And Emmanuelle Vaugier Split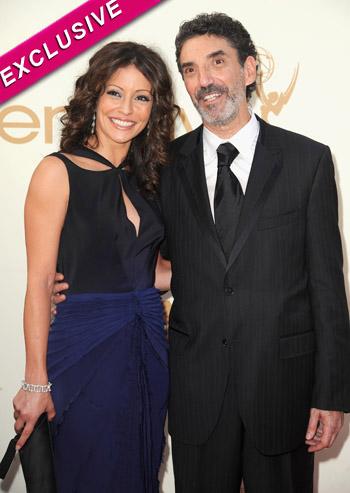 Chuck Lorre and Emmanuelle Vaugier have ended their two-year relationship, a source tells RadarOnline.com exclusively.
The creator and executive producer of Two and a Half Men and the actress who appeared on the sitcom for several seasons as Charlie Sheen's girlfriend, split just before Christmas.
"She was away for a month working in Vancouver, and heard from a friend that Chuck had been spotted out with another woman," a source close to the former couple reveals.
Article continues below advertisement
"She confronted him about it when she got back, and he eventually admitted to it," the source says. "She's hurt, devastated. She never saw it coming."
Making matters worse was the timing of the split. "Emmanuelle had already made holidays plans for herself and Chuck," says the source. "Her friends have rallied around her, but it's been tough.
"She is a very happy person. Everybody loves Emmanuelle, and can't believe the way this has happened."
The split adds to the sad track record of Two and a Half Men relationships.
Charlie Sheen saw two marriages implode during his years on the show. And Ashton Kutcher had barely stepped in to his new starring role when his marriage to Demi Moore went up in smoke.
Lorre, of course, was engaged in a knock-down-drag-out war of words with his former star and good friend Sheen, leading to Charlie being fired from the hit CBS show. In September they settled the wrongful termination lawsuit Sheen filed against Lorre and Warner Bros. Television.