Cedric's Appearance On RHOBH Planned & 'Overly Scripted': See The Evidence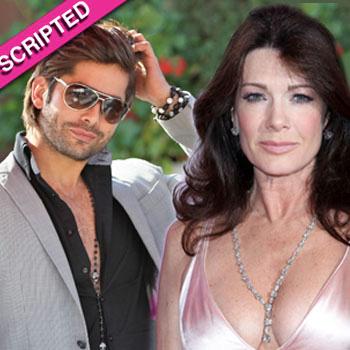 Article continues below advertisement
"I have no idea what you're doing here. What do you want from me that you haven't had already?" Lisa quipped.
"I don't wish you any harm, but guess what, worse than that -- I don't wish you anything at all."
But Cedric claims that what the public didn't see was a behind-the-scenes email exchange between his manager and the Executive Producer of the hit Bravo show, Dave Rupel, inviting him to the event.
"Lisa has been told that Cedric wants to offer an olive branch, but is still very apprehensive. I encourage you to encourage Cedric to be at his most gracious. Obviously, this is a difficult and emotional moment for both Lisa and Cedric," Dave wrote in a July 14 email seen by RadarOnline.com to Cedric's rep, Michael Sanchez.
"We are not telling any of the other wives that Cedric is coming, so I don't think any other wives will really talk to Cedric before he reaches Lisa -- other than, 'do you know where Lisa is?' kind of thing -- because honestly, they'll all be pretty surprised to see him.
Article continues below advertisement
"However, after he talks with Lisa, and at some point, we do expect her to ask him to leave, we are prepared for Cedric to ask another cast member to talk with him outside (Brandi, Kyle, Bernie, Dwight, Justin.)"
Cedric tells RadarOnline.com the episode was "overly scripted" and calls Lisa a "bitter, conniving woman who will do anything for fame."
"Lisa has succeeded thus far in trashing my name and manipulating the other housewives," Cedric said. "But the race is long and I'm confident that as the truth slowly comes out, the public will come to realize Lisa's pretty facade hides a heartless, bitter, rotting core."
Also in the email exchange between Bravo and Cedric is talk of Lisa getting her own spin-off show, and Cedric potentially being a part of it.
"Lisa is in negotiations with Bravo for a potential spin-off that would focus on the staff at Sur. That deal has been in the works for a while. All along I've been saying that it's too bad Lisa and Cedric had their falling out because Cedric would've been perfect fit for that project," Dave wrote.
Article continues below advertisement