Casey Anthony Claims Date Rape Led To Pregnancy With Caylee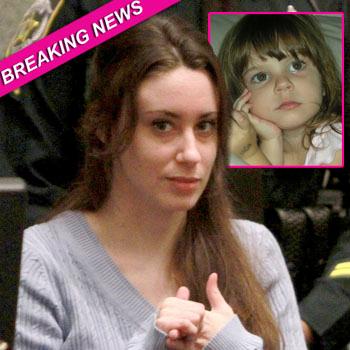 By Amber Goodhand - RadarOnline.com Reporter
Casey Anthony claims she may have gotten pregnant with her daughter Caylee at a party in 2004 in which she was date raped and "blacked out."
Dr. William Weitz and Dr. Jeffrey Danzinger were court-appointed mental health experts whose never-before-seen depositions were released on Wednesday — revealing a slew of new information straight from the Tot Mom's mouth.
"She believes ... that's when that she was impregnated," Weitz said during his deposition of the party in which Casey said she may have had a "spiked" drink.
Article continues below advertisement
Weitz goes on to say in the deposition that Casey even suspected that her own father, George Anthony, may have been Caylee's father, but the notion was later disproved by DNA testing.
But according to both Weitz and Danzinger, Casey described sexual abuse from her father George in great detail to them — and even fingers him as having something do with Caylee's death, claiming George disposed of her body.
"It is the perception of Casey that her father had something to do with the death of her daughter," Weitz said. "It's clear that she believes that George either harmed and/or took the life of Caylee."
According to Casey, Caylee was wearing a T-shirt and shorts, and was wet and appeared lifeless. She said, "Dad took her from me, said all's going to be okay. Daddy will take care of it," Weitz said in the deposition.
Article continues below advertisement
"Although she believed the child was deceased, part of her wanted her daughter to be alive."
Danzinger said in his deposition that Casey told him, "I think he George held her under water, maybe he was doing something to her and he tried to cover it up."
Danzinger later told prosecutors that he lost sleep over repeating the criminal allegations Casey had made against her father since there was no proof and no record of such was ever made with authorities.
"Casey seems detached from a lot of her feeling and emotions, even in times when one might expect they'd be more reactive and intense," Weitz said.
"She uses lies as a protective measure. She admits to not always being truthful; that for her, it's a protection."
Both doctors were slated to be witnesses during the trial before the defense withdrew them, and neither ended up testifying.
And despite the web of lies Casey was caught in during the murder trial, both doctors concluded that she did not suffer from any mental illness or disorders, but instead used "suppression and denial in the way she deals with trauma."
Article continues below advertisement
Weitz and Danzinger were the doctors who conducted psychological exams on Casey before her murder trail.
Orlando attorney Mark Lippman issued the following statement on behalf of George Anthony:
George Anthony was made aware of these statements in the deposition prior to the trial of his daughter in 2011 and no new information has been disclosed today. As he has repeatedly said prior to the trial, during the trial and after the trial he never molested any member of his family including Casey Anthony and he had nothing to do with the death of Caylee Marie Anthony including what happened to her remains after she allegedly drowned.