Exclusive
Brandi Glanville's New Hubby's Ex-Wife: She Betrayed Me!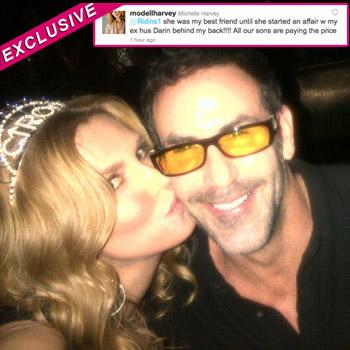 By Amber Goodhand - RadarOnline.com Reporter
Brandi Glanville got married over the weekend in a spur-of-the-moment Vegas ceremony and RadarOnline.com has exclusively learned her new husband's ex-wife is fuming over the stunt!
"She was my best friend until she started an affair w my ex hus Darin behind my back!!!!" Darin Harvey's ex-wife, Michelle Harvey posted on her Twitter account Tuesday afternoon.
PHOTO: Click Here To See Michelle Harvey's Twitter Rant
Article continues below advertisement
"All our sons are paying the price… BG marriage to Darin Harvey wasn't funny to our son tanner!!!! She was my BFF until she stated sic affair w my ex husband!!!"
Although Brandi's marriage to Darin isn't legal because no paperwork was filed, Michelle doesn't find it funny and is unleashing on the Real Housewives of Beverly Hills star.
"I was BG BFF for 12 yrs b4 betrayed by her n my ex Darin!" Michelle tweeted.
"Brandi doesn't care about me or my son… But Darin should!!!!"
Michelle also goes on to allege that Brandi and Darin participated in the drunk wedding ceremony just for publicity.
"Darin told me they did it for the publicity!!! Pathetic fame wh*res. All 3 kids are devastated," she wrote.
"They are both back peddling…Darin admitted to me it was her idea for publicity."
As RadarOnline.com previously reported, Brandi and Darin tied the knot at the Spearmint Rhino strip club on New Year's night.