The Bachelor: Blogger Jenna Melts Down After Ben Sends Her Home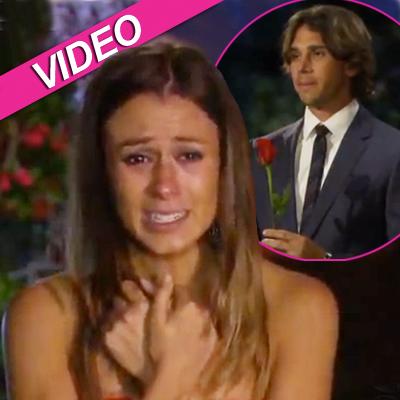 Ben Flajnik gave two women the boot on Monday's edition of The Bachelor, as the 29-year-old winemaker stomped out the hopes of Shawn the financial advisor, and Jenna, the beautiful blogger who proved to be one of the show's biggest drama queens ever in her two weeks in front of the cameras.
Jenna -- who said she was "distracted" by the other girls -- might have sealed her own fate by giving Ben a warbled speech about why she was acting weird.
Article continues below advertisement
"I feel like I'm a guy in how I act, so being around girls all the time is very abnormal to me in what people say," Jenna, 27, explained to a confused Ben. "I'm not like a girl, if that makes any sense."
A dismayed Ben said later, "Some of these women are beginning to unravel a little bit ... I had no idea things had gotten this bad, this early."
After she was eliminated, Jenna continued with her emotional meltdown.
Watch the video on RadarOnline.com
"I'm shocked -- I came here looking for love, these girls distracted him I think I deserve love I want to find love ... I think I deserve love, I have always been trying to find it," said the New York beauty.
Elsewhere on Monday's show, Ben took the women to his hometown of Sonoma, California, where he locked lips with four of the stunners vying for his heart. Still in the competition include Lindzi, Jamie, Rachel, Emily, Kacie B., Casey S., Britney, Erika, Nicki, Jennifer, Elyse, Samantha, Courtney, Jaclyn, Monica and Blakely.
Article continues below advertisement