Exclusive
The Bachelor: Stepmom Says Monica's Lesbian PDA Likely Fueled By Booze, Not Blakeley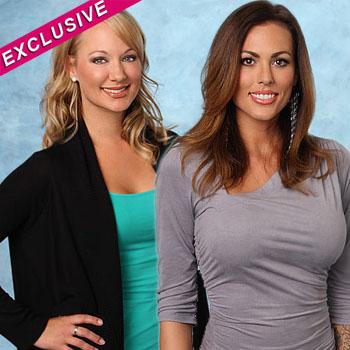 America's collective tongue wagged watching Monday's two-hour season premiere of The Bachelor, as sexy Monica seemed more into fellow contestant Blakeley than the man of the hour, Ben Flajnik.
However, the old adage: "Believe half of what you see" might come in handy in this case. Monica's stepmother Sherry Ekberg exclusively tells Star magazine that Monica's not gay or bisexual -- but might have been drunk at the time of the steamy advance, which saw her flirt with Blakeley in plain view of the others, as she told her: "You're beautiful; you're amazing."
Article continues below advertisement
EXCLUSIVE PHOTOS: Bachelor Reunion Pics
Sherry told Star exclusively that the show's producers "really like to keep the contestants intoxicated, so anything can happen at that point ... they keep them a little looped up." (This falls in line with Star's earlier report that the show encourages its contestants to booze it up with vodka and other potent elixirs prior to taping.)
According to Sherry, Monica wasn't "too pleased" about the way the show's producers made her look on Monday's season premiere.
"They ... portrayed her as something she's not," Sherry said. "Sometimes they'll do anything they can for the publicity -- that's probably the only reason it's on the show."
As for her feelings for Blakeley, the apple of Monica's eye on Monday, a close friend tells Star, "I've never seen any evidence that she's gay or bisexual.
"She probably laughed the whole thing off. Nothing embarrasses her and she's very comfortable with her sexuality."
Article continues below advertisement
All in all, Ben gave roses to 18 women Monday, keeping them in the competition: Lindzi, Jamie, Rachel, Jenna, Emily, Kacie B., Casey S., Britney, Erika, Shawn, Nicki, Jennifer, Elyse, Samantha, Courtney, Jaclyn -- and yes, both Monica and Blakely.
EXCLUSIVE PHOTOS: Bachelor Contestant's Face Bloodied Up
The Bachelor returns on ABC Monday at 8/7c on ABC.
To read the full interview pick up the new issue of Star magazine — on newsstands Thursday.