Ashton Kutcher Strikes Back At Twitter Hack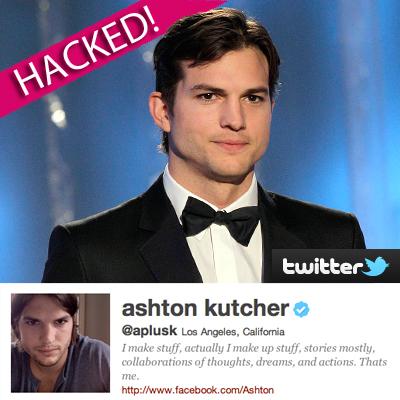 Ashton Kutcher's looking to punk a hacker.
After his Twitter and Foursquare accounts were apparently hacked recently, the Two and a Half Men star took to his Twitter page to antagonize the cyber-lockpicker.
"So apparently someone thinks they are clever hacking my account. #lame," he wrote. "Ok mr hacker, you only made one mistake. You hacked my Foursquare and I now know your address. Whoops...This is gonna be fun." (Both tweets were apparently removed as of early Monday.)
Article continues below advertisement
The 33-year-old star of The Butterfly Effect wrote in a later Twitter message, "I'm coming for you my friend...," linked to a pic of the hacker's purported location, a spot between 120th and West El Segundo Boulevard in Hawthorne, California.
When the account was commandeered by the hacker, the offending tweet centered around Kutcher's rumored new love interest, screenwriter Lorene Scafaria. It read, "First official sleepover with my girl @lorenescafaria so maybe breakfast with everyone next time! (@ Lorene's House)," with a Foursquare link showing a map of where Scafaria's house is located.
(Just as irritating for the Iowa native is that he's invested money into Foursquare -- he even plugged it on Two and a Half Men -- as the hacking undermines the website's security.)
Fun fact: Kutcher's Twitter account was the first to have more than 1 million followers, edging CNN for the milestone in April of 2009.
RELATED STORIES:
Demi Moore's Daughter Scout LaRue Lends Vocals To New Nicolas Jaar Song