Ashton Kutcher At Brazilian Beer Bash During Demi's Darkest Days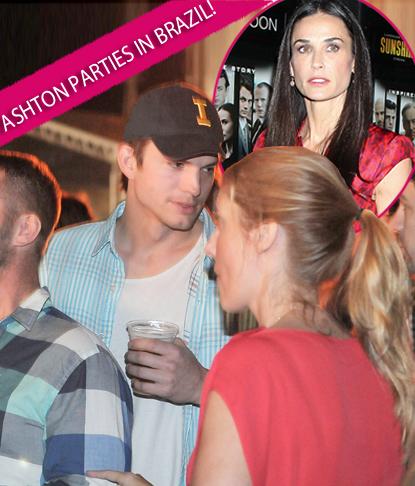 As his estranged wife Demi Moore was rushed to a Los Angeles hospital Monday night, Ashton Kutcher was partying at a Brazilian club with a full beer and a bevy of beauties.
The 33-year-old star of Two and a Half Men, decked out in preppy threads, was seen living the good life at a Bruno Mars concert in Sao Paulo Monday.
Ashton, who's been in the South American country for its fashion week, had not acknowledged his ex on his Twitter page early Wednesday, as his last tweet came late Tuesday regarding a new Google feature.
Article continues below advertisement
As we previously reported, Demi was taken to the hospital late Monday night for a 30-minute evaluation.
The actress Tuesday said through her rep she'd seek professional help "to treat her exhaustion and improve her overall health.
"She looks forward to getting well and is grateful for the support of her family and friends," Demi's publicist Carrie Gordon said in a statement.
Despite that statement, there are reports that Moore is being treated for substance abuse issues.
As a result, Gordon said the star would pull out of the Linda Lovelace biopic Lovelace, in which she was to play Gloria Steinem.
Demi's well-being has been the subject of speculation since she announced her split with Ashton in November, after he cheated on her with a 23-year-old woman in San Diego September 24, the same night of their sixth anniversary.
RELATED STORIES:
Demi Moore Hospitalized In L.A., Rep Says She'll Seek Help For 'Exhaustion'