Tsunami Victim Feared Dead Reunited With Family Seven Years After Tragedy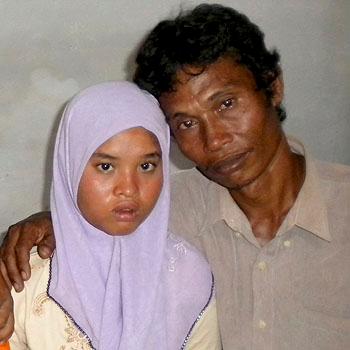 It's a heartwarming and amazing story, just in time for the Holidays.
A 15-year-old girl whose family believed she had been killed in the tsunami that ripped through Asia on December 27, seven years ago, are astonished to have found her alive.
Meri Yulanda, known as, Wati, was just eight years old when her mother Yusniar tried to get her family to safety in the raging waters which engulfed their tiny village Ujong Baroh on the island of Sumatra, Indonesia, but lost her daughter's grip.
Article continues below advertisement
Indonesian news agency Antara said that Yusniar managed to keep hold of her two other children but had never stopped wondering what happened to Wati.
The family searched for years to find the little girl before finally presuming she had died.
The miraculous family reunion occurred when Wati's grandfather Ibrahim was contacted by a friend earlier this week who had encountered a teenage girl who had no recollection of where she came from.
She was apparently found sitting in a coffee bar by herself and said she was trying to find her way home but didn't know who she was, her only memory being her grandfather's name was Ibrahim.
Ibrahim immediately contacted Yusinar and her husband, and as soon as they set eyes on the teenager they knew straight away that it was their long lost daughter.
A mole and a distinctive scar on the girl's elbow from when she was six years old solidified their belief that it was their child.
Article continues below advertisement
Wati says that she was taken in by a widow after the disaster and forced to work as a beggar, being freed only last week.
About 168,000 people were killed in Aceh province alone in the tsunami which killed an estimated 230,000 people in total.
Tens of thousands of bodies were never recovered and many families still hold out hope of being reunited with their missing loved ones.