Thomas Jane Not Hung On Prostitution Rumors: 'People Heard What They Wanted To Hear'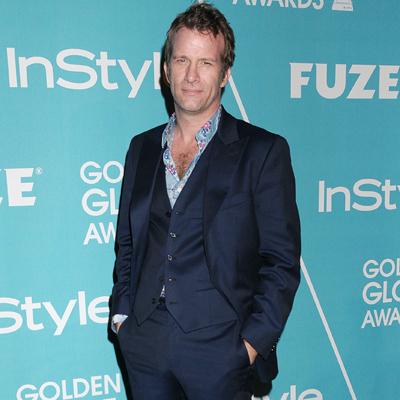 Hung star Thomas Jane hasn't ever sold himself — he just plays a guy that does.
The 42-year-old, who plays male prostitute Ray Drecker on the HBO hit, told The Fix he was misquoted in the Los Angeles Times interview in which the implication was made that he'd had sex with men for money as an upstart actor in Hollywood more than 20 years ago.
"As an artist in a big city, as James Dean said, you're going to have one arm tied behind your back if you don't accept people's sexual flavors. You know, when I was a kid out here in L.A., I was homeless, I didn't have any money and I was living in my car," he said in the October 4 interview.
Article continues below advertisement
"I was 18. I wasn't averse to going down to Santa Monica Boulevard and letting a guy buy me a sandwich. Know what I mean?
"Until you've tasted the food, you don't know whether you'll like it or not, as my mom always said," Jane said, clarifying he "chose to be a heterosexual guy because that's what my DNA dictates."
But in Tuesday's discussion with The Fix, Jane emphasized he never said he was a prostitute, or implied it as such.
"I was talking about my early time in Hollywood: I said that I'd had a sexually adventurous time and I was trying to relate that to how I play a prostitute on TV," he said. "Trying to relate my experience to my character's experience -- and well, people heard what they wanted to hear...things fly around."
Jane said he didn't even know the prostitution rumor "was out there" until people informed him.
Article continues below advertisement
"I suppose 'sexually adventurous youth' wasn't as much of a headline grabber," Jane said.
Jane also discusses his March 2008 DUI, which took place after a close pal's funeral.
"I had a couple of whiskeys in me and was pulled over four times that one night and let go every time except for the last one," he said.
"Each time I got pulled over, I was driving faster than I was the previous time. The first time I got stopped, I was sleeping in my car. Not driving, just sleeping: passed out behind the wheel. Then I got pulled over for doing 100 miles per hour, then 120. The last time, I was doing 142."
Now sober, Jane admitted he'd lost the will to live that night.
"I had just lost the will to be a part of the planet...it was a tough time...my friend had died suddenly. Getting woken up in a jail in Bakersfield to sign an autograph at four o'clock in the morning was when I said to myself, 'This is not the way I want to live my life.'"
RELATED STORIES: