Sinead O'Connor Marries On Her 45th Birthday – In A Pink Cadillac!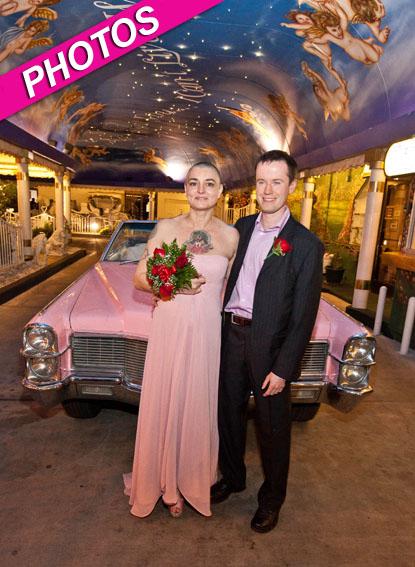 It wasn't exactly a traditional wedding.
Sinead O'Connor married her boyfriend, Barry Herridge, on her 45th birthday Thursday, and RadarOnline.com has the pics of the blushing bride and groom.
The controversial Irish singer – with her trademark shaved head and tattoos clearly visible in a pink dress- tied the knot at the world famous A Little White Wedding Chapel in Las Vegas.
But get this - the chapel even has drive-thru service, and PEOPLE reports O'Connor said "I do" while sitting in the back of a pink Cadillac!
Article continues below advertisement
After her quickie wedding, she posted a message – which included a dose of vulgarity - to her fans on her blog Friday: "Dear friends... amongst whom I include whomever may be reading this with a view to writing about the glorious marriage. Am blogging this cus media people are naturally seeking me. On sunday I will put up blog on whole day. Too glorious for words. For now though, as you will appreciate, it's a bit of a 'Can't. Talk. C*ck. In. Mouth'. Situation. Xxx".
The Nothing Compares 2 U singer broke the surprising news of her impending nuptials on Wednesday, writing on her blog: "With enormous joy myself and my beloved boyfriend Barry Herridge will be getting married tomorrow, December 8th 2011 at 'an un-disclosed location' in my absolute dream wedding ceremony. We will post a photo or two here on the site as soon as possible afterward. Very happy girl. (sic)"