Michael Douglas' Son Cameron Gets 4 1/2 More Years In Prison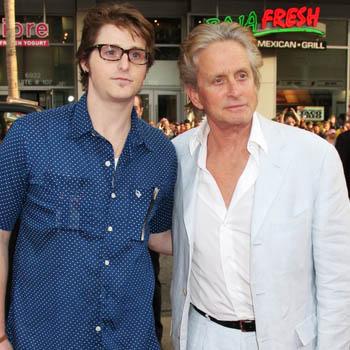 By Debbie Emery - Radar Reporter
There was more bad news for the Douglas family on Wednesday when Cameron Douglas had an extra 4 1/2 years added to his current prison sentence for drug dealing.
The troubled son of Michael Douglas and grandson of Kirk was already serving a five year sentence for trafficking, but that time has now been almost doubled after he was convicted of possessing drugs behind bars.
Article continues below advertisement
As RadarOnline.com previously reported, Douglas, who was sentenced to five years in prison in April after he pleaded guilty to possession and dealing methamphetamine and cocaine, once again admitted his guilt to having drugs in jail after illegal substances were found in his cell.
Appearing in the Manhattan federal court to support her wayward son, Deandra Douglas cried openly and dropped her jaw in astonishment when she heard that Cameron, 33, would have to serve even more jail time. She was so distraught that she left her cell phone in the courtroom.
"I feel ashamed," Douglas told the court before he was sentenced.
Earlier in the week, he wrote a letter to the judge explaining that he was "saturated in my own shame and penitence," and begged for "the opportunity to build myself and gain the tools I need to shape my future.
"I feel so strongly, for the first time in my life, that I am truly ripe for positive reform and real achievement," he stated in the Manhattan federal court filing.
Article continues below advertisement
Tom Sizemore Is Writing An Addiction Memoir