Kim Kardashian Keeps Her Clothes On For Christmas Party Photos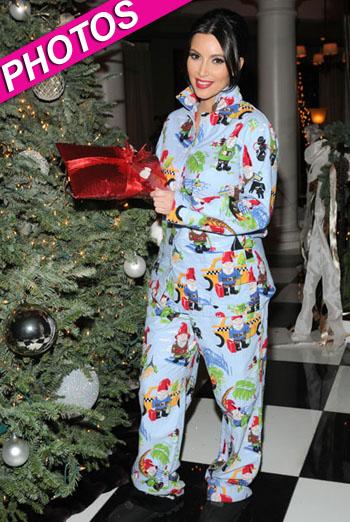 Just a day after tweeting photos of herself in a sexy black bra with an open pajama top, Kim Kardashian turned to much more demure fashion for her family's annual Christmas party.
The reality queen wore a long-sleeve, full length gray dress for some of the shots, and long-sleeved, buttoned-up PJs for others.
Mom Kris Jenner and stepdad Bruce Jenner hosted the annual party. Kourtney Kardashian, her baby daddy Scott Disick, and their son Mason, were all there. So were Dancing with the Stars alum Rob Kardashian, and Kylie and Kendall Jenner.
Article continues below advertisement
Missing for the first time was Khloe Kardashian, who was in Dallas with her husband Lamar Odom for the opening of the NBA season. He's now playing for the Dallas Mavericks.
Kim also revealed that her teenage Jenner stepsisters got two chocolate Lab puppies for Christmas. They named them Louis and Vuitton.
Kim's next engagement with a photo crew is New Year's Eve where she's being paid to host a giant nightclub party in Las Vegas.