Katy Perry Gets Her Funny On With Matt Damon And Andy Samberg For SNL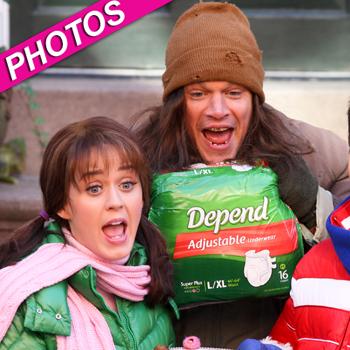 Who doesn't celebrate the holidays with Cornish game hens and Depend adult diapers?
Katy Perry, who is hosting this week's Saturday Night Live, filmed scenes for the variety show with Matt Damon, Andy Samberg and Val Kilmer in New York City on Friday – and RadarOnline.com has the hilarious photos.
A pig-tailed Perry, who was glammed down in a green puffer jacket, a pink scarf and matching gloves, held up a tray of Cornish game hens with Samberg, while Damon, who was dressed like a homeless person, complete with a holy hat and stained teeth, proudly showed off a package of Depend Adjustable Underwear.
Article continues below advertisement