ESPN Reporter Erin Andrews Files Invasion Of Privacy Lawsuit Against Marriott Hotel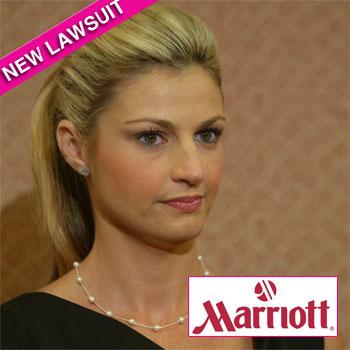 By Amber Goodhand - RadarOnline.com Reporter
ESPN reporter Erin Andrews has filed a new invasion of privacy lawsuit against the Marriott Hotel in Nashville, Tenn. where Michael Barrett videotaped her undressing without her knowledge or permission, RadarOnline.com has learned.
Andrews filed the lawsuit last week with the Davidson County Circuit Court claiming invasion of privacy, infliction of emotional stress and negligence on the part of the popular hotel chain for the 2008 incident.
Article continues below advertisement
The 33-year-old is seeking $10 million in damages -- $6 million from the hotel, and $4 million from Barrett, who was also named in the new lawsuit.
Barrett, an ex-insurance executive from Westmont, Illinois, admittedly followed Andrews through Tennessee, Ohio and Wisconsin, requesting rooms adjacent to where she was staying and videotaping her through peepholes. He was arrested October 2, 2010 at Chicago's O'Hare International Airport.
Barrett was convicted and sentenced to two and a half years in federal prison.
The lawsuit states that Barrett spoke with the Marriott to find out which room Andrews would be in so he could rent out the room next to her, and he then altered and/or removed the peephole to her hotel room so he could videotape her undressing — which he then posted online.
"The unknowing and unwelcome filming of (Andrews) while she was changing and the further dissemination of unauthorized, private videos of (Andrews) in the hotel rooms has caused and continues to cause her great emotional distress and embarrassment," the lawsuit states.
Article continues below advertisement