Exclusive
Over Already? Elisabetta Canalis & Mehcad Brooks Have Knock Down, Drag Out Fight!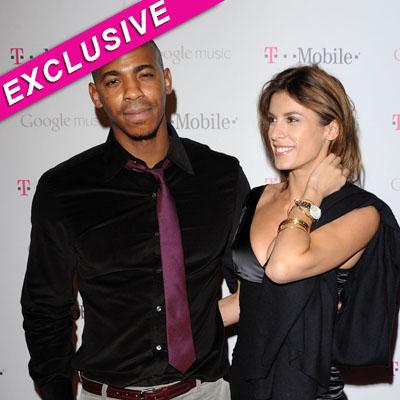 Has yet another Hollywood romance bitten the dust?
The relationship between Italian model Elisabetta Canalis and True Blood star Mehcad Brooks appears to have skidded to an abrupt halt following a spat in the lobby of her West Hollywood apartment building Thursday night, RadarOnline.com has learned exclusively.
"Elisabetta and Mehcad were in the lobby obviously fighting with each other," an eyewitness tells RadarOnline.com. "At first they were trying not to call attention to themselves. But after a few minutes they couldn't contain themselves anymore and their voices started to escalate."
Article continues below advertisement
The eyewitness continued, "They both became so angry, it was like they were oblivious to the fact that they were out in public: At one point, Elisabetta shoved Mehcad really hard, and he shouted right back at her to stop acting crazy.
"Finally Elisabetta screamed, 'Just go! Get out of here!' and stormed up to her apartment. Moments later, she returned to the lobby carrying an armful of things, which included a Balenciaga hand bag."
The 33-year-old stunner, according to eyewitness, then dropped the bag on the desk of the building manager with a message for Mehcad, 31.
"She told him, 'Tell that a**hole to take his s**t and never contact me again' -- then, she turned on her heel and stormed off!
"To say she was angry would be an understatement! I was really surprised by the whole thing, because I saw her wearing what looked like a wedding ring just last week," the source added. "I thought they were madly in love!"