Chicago TV Anchor Apologizes For Saying There's No Santa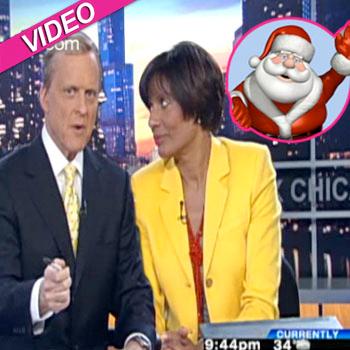 By Alexis Tereszcuk - Radar Senior Reporter
Someone just got onto Santa's naughty list.
Veteran Chicago news anchor Robin Robinson dropped the "bombshell" news that Santa isn't real on her nightly newscast and the backlash was so intense that she had to apologize to her loyal viewers.
"Stop trying to convince your kids that Santa is Santa. There is no Santa," Robinson said on Fox Chicago station WFLD-TV after a segment about lowering expectations for kids with Father Christmas in this year's tough economy.
Article continues below advertisement
A mother herself, Robinson said it was important for kids to know that he isn't real. "As soon as they can talk (tell kids) there is no Santa."
She explained, "Santa's a generosity of the season. But he's not coming down the chimney, he's not eating those cookies, he's not bringing you anything!"
Shopping Mall Santas Scaling Back Kids' Expectations, Profiling Parents: MyFoxCHICAGO.com
Viewer backlash was immediate, and the following night she apologized for her "mistake."