He's Just That Into Her! Bradley Cooper Is Reportedly Dating Zoe Saldana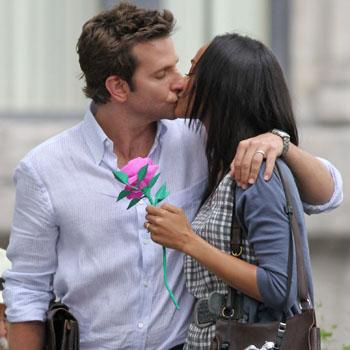 Bradley Cooper is a busy busy guy -- and we are not just talking about his work life!
People magazine's Sexiest Man Alive is reportedly dating his The Words co-star, Zoe Saldana, hot on the heels of French actress Melanie Laurent and Latina lovely Jennifer Lopez.
In a case of life imitating art, after a series of on-camera hookups in June, the sexy twosome are now locking lips off-camera.
Article continues below advertisement
A source tells E! News, Cooper and Saldana are "very happy" and that they were telling friends that they had plans to go skiing in the Rockies together over the holidays.
"They are totally dating," the source says.
As RadarOnline.com previously reported, in the wake of the shocking news that she split with her fiancé, Zoe and Bradley were spotted getting hot and heavy!
The Avatar beauty posed happily by the side of Keith Britton on September 14, but just two nights later, she and Bradley were "acting like two high school kids going steady," in an exclusive Manhattan nightclub an eyewitness told Star magazine.
"The way she and Bradley were sharing affectionate contact, you certainly wouldn't have guessed that Zoe had a fiancé at the time," the source said.
Zoe, 33, and Bradley, 36 arrived at the club at 3 a.m. "They were in a group of about 20 people, but it was obvious from the start what was going on between Zoe and Bradley. They were casting sexy smiles at each other, and every time they were within arms reach, they made sure to give each other a sneaky little rub on the shoulder or hip. It was like they were sharing naughty little moments."
Article continues below advertisement
The eyewitness continued: "Bradley suddenly put his arm around Zoe's shoulders. She then put her arm around his waist, and they left all their friends behind as Bradley let her out of the club. They didn't return."
Later that evening Zoe was spotted arriving solo at the airport in Los Angeles -- without her engagement ring.
A rep for Saldana has denied she is dating Cooper, insisting they are "just friends." But, the same rep consistently denied that there was any trouble in her relationship with Keith.