Exclusive
Ben Breedlove's Sister: 'His Memorial Was Beautiful'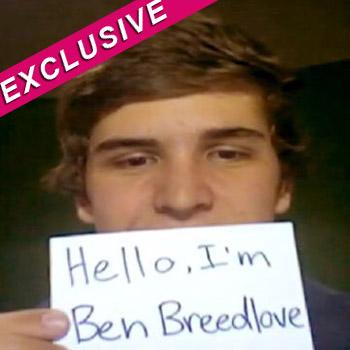 The sister of the teen boy whose final video has become an internet sensation says her brother's memorial on Wednesday was "beautiful."
Ben Breedlove's sister Ally, 19, has spoken exclusively to RadarOnline and shared that her family was shocked but warmed by the turnout at the 18-year-old's service where over 1500 people turned up.
"We were overwhelmed by how many people came to pay their respects," Ally said. "His memorial was a beautiful tribute and it was a great send off for him. When I spoke – I just got up there and said whatever was on my heart. I didn't have anything written down."
Article continues below advertisement
Ally shared that when Ben died on Christmas she was "extremely devastated and there was a lot of crying.
"But we knew he was ready to go and that lifted our burden. We know he is at peace and out of the pain and suffering he had for so many years.
"We didn't expect such a response to Ben's YouTube video. It's great that Ben's message of love and peace is being received so well."
Ben's video had him sharing his story of living with hypertrophic cardiomyopathy through a series of handwritten note cards. It has already received over 2.3 million hits.
The teen chronicled in heart-wrenching detail his several previous near-death experiences and was found by his parents the day after he passed away.
The Breedlove family has set up a foundation for their son – the Ben Breedlove Memorial Foundation through the Africa New Life Ministry.
"We set up the memorial fund to help raise awareness of something very close to Ben's heart," Ally shared.
"Ben was very passionate about children and couldn't believe how some children in Africa suffered so much. He was very upset about child soldiers in Africa and wanted to do what he could to help them. That's why we chose Africa New Life Ministry to put Ben's Foundation through."
For more on Ben's Memorial's Fund visit www.africanewlife.org.
If you've never seen the video, or just want to experience it again, you can watch it here.
RELATED STORIES:
Cheetah, Chimpanzee Of Tarzan Fame, Dies At 80
Beauty Queen Eva Ekvall Loses 2-Year Battle With Cancer
Who Was Christopher Hitchens? The Life Of The Controversial Vanity Fair Columnist
Music Exec, 40, Dies From Wounds In Hollywood Street Shooter's Rampage