Angelina Jolie: 'The Kids Don't Think We're Cool'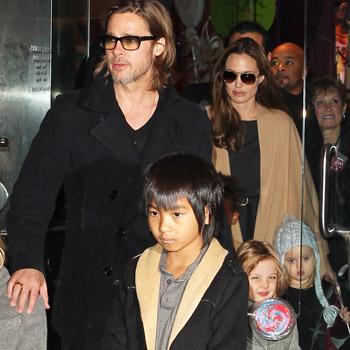 Angelina Jolie and Brad Pitt may be one of the coolest duos in Hollywood, but apparently their kids don't think so!
Angelina, who is featured on the cover of the weekly edition of The Hollywood Reporter with her Kung Fu Panda 2 director Jennifer Yuh Nelson, reveals how her animated role in the hit DreamWorks movie scored her points with her children.
After gushing over working with Yuh Nelson on the film, Jolie revealed that the film was a huge hit at home.
Article continues below advertisement
"I've scored some points at home because of Kung Fu Panda. They love Tigress, who is my alternate personality. Otherwise, they think Brad Pitt and I are just so not cool."
She also adds that the story line in the film, which involves P the panda, who has been raised by his goose father, searching for his birth parents, hits a personal note.
"It is a truly great movie, and I love when my children watch it because I know it's teaching them great things. It's especially relevant to my family because of the adoption."