Alec Baldwin Joins Long List Of Celebs To Delete Their Twitter Accounts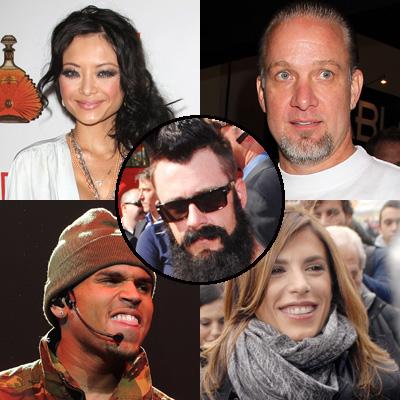 After getting booted off an American Airlines flight Tuesday, Alec Baldwin fired off a series of hostile tweets, the most brazen being, "Last flight w American. Where retired Catholic school gym teachers from the 1950s find jobs as flight attendants."
On Wednesday, Baldwin deleted his Twitter account.
While some might be a little surprised the normally-outspoken actor would muzzle himself, he's certainly not the first famous person to shush the little blue bird.
Article continues below advertisement
With that said, here's five other celebs that took themselves out of the Twitter game after putting their foot in their e-mouths, or something close to...
Jesse James: When the heat of his cheating scandal with ex-wife Sandra Bullock hit fiery levels in March 2010, James got out of the Twitter kitchen, permanently silencing himself on the popular website.
Chris Brown: He's returned to Twitter with a vengeance (currently boasting 5.9 million followers), but two years ago, the mercurial R&B singer deleted his account in a huff, claiming retail outlets had blackballed his album Graffiti, his first release since his ferocious beating of ex Rihanna in February 2009.
Brian Wilson: Jocks are fair game to get burned on their own blogs as well, as this case will illustrate. The bearded closer of the San Francisco Giants -- and pal of Charlie Sheen's -- was among the first famous people to feel the backlash of Twitter in 2009, when he tweeted about late night partying with pals in a Scottsdale bar ... then promptly blew a save against the Diamondbacks the next day, spurring fans to connect the dots. Wilson eliminated any future gaffes by closing the door on his Twitter account.
Article continues below advertisement
Elisabetta Canalis: George Clooney's ravishing Italian ex said "Arrivederci" to the website after a tweet emanating from her former account implied A-list actress Jennifer Aniston bore a striking resemblance to aging rocker Iggy Pop. After denying she made the jab, Canalis eliminated any future possible misunderstandings by deleting the account.
Tila Tequila: Following the death of her girlfriend Casey Johnson, the rant-prone reality star deleted her account in February 2010 after receiving an avalanche of negative feedback from followers. She's since started a new account.