Ab Fab Stars Call Kardashians A 'Disease'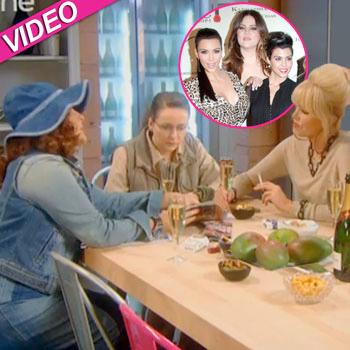 By Alexis Tereszcuk - Radar Senior Reporter
The hilarious British stars of the hit show Absolutely Fabulous are mocking the Kardashians and their "no talent" fame, even calling them a disease and head lice!
In a video clip titled "The Kardashian Syndrome," Eddie, played by Jennifer Saunders tells Saffy (Julia Sawalha) and Patsy (Joanna Lumley) that she doesn't even know who they are.
"They're just no names, nobody," she says about Kim, Khloe and Kourtney.
Article continues below advertisement
"There's a new disease called the Kardashians darling," she wails.
Patsy agrees, saying they're spreading "like herpes. Each one with their own reality show. They're multiplying like head lice."
Making sure to insult each and every one of them, Patsy rails on a photo, saying "Look at this fat one at the end, very soon she will split like an amoeba and become two Kardashians."
Then the final zinger is sent by Patsy. "That looks like a boob, in fact it's just another Kardashian."
Absolutely Fabulous is returning to BBC One for three specials, the next on airing on December 25.
You can watch the video here on RadarOnline.com.