Tiger Woods Former Caddy Steve Williams Slams The Golfer With Racial Slur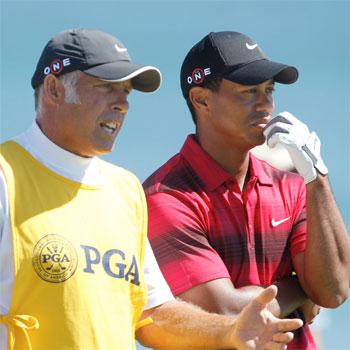 Caddy Steve Williams has made a shocking, racially tinged remark about his former boss Tiger Woods.
There's been no love lost between Woods and Williams since the golfer fired him this summer, and the tensions apparently aren't letting up.
At the Annual Caddy Awards Roast in Shanghai Friday night, Williams was asked about a comment he made in August where he described his Bridgestone International victory with new golfer Adam Scott as the best win of his life, despite having won 13 majors with Woods.
Article continues below advertisement
EXCLUSIVE PHOTO: Tiger Woods' New Girlfriend Mug Shot -- Arrested On Suspicion Of DUI
"It was my aim to shove it right up that black a**," Williams responded.
The comment was met with astonishment and nervous laughter by the audience of golfers and other caddies.
Williams later took to his website to say he was sorry after realizing his words had spread further than the party.
"I apologize for comments I made last night," he wrote. "I now realize how my comments could be construed as racist. However, I assure you that was not my intent. I sincerely apologize to Tiger and anyone else I've offended."
Tiger's agent Mark Steinberg told AP that his client had heard about the racial tone of Williams' remarks. "I was with Tiger last night when he heard the news," Steinberg revealed. "If multiple reports… are true, then it's sad it's come down to this."
The embattled pair will come face to face again on November 10 in Sydney for the Australia Open.
RELATED STORIES:
EXCLUSIVE: Tiger Woods' New Girlfriend Was Arrested On Suspicion Of DUI