Rihanna: I'm Single, I Don't Get Any Booty Calls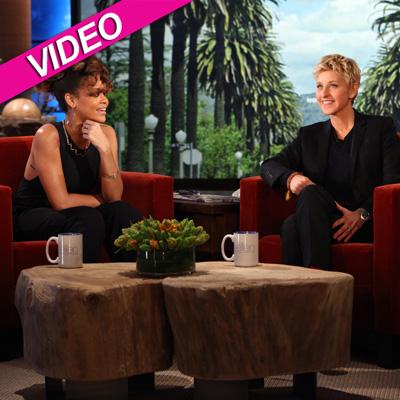 R&B superstar Rihanna dishes about the current state of her love life, and what she's looking for in a significant other, on Monday's edition of The Ellen DeGeneres Show.
"I'm not dating anyone right now," the You Da One singer told DeGeneres, who asked the 23-year-old Barbadian beauty -- recently named Esquire Magazine's Sexist Woman Alive -- if men are intimidated to approach her.
"I would say at times it can be intimidating but then it's no good," Rihanna said. "I can't have guys that are intimidated by me.
Article continues below advertisement
"I like men that are more aggressive ... I like them to be sure of them selves and know that you're the man. I'm the lady and the only way for us to make this work is for us to play our roles," she explained. "You know, I can't really be the man for you -- I don't want to have to be -- I'm the man at work all the time."
The hitmaker said that while she's "not necessarily happy being single ... her work is her everything.
"I do put a lot into my job; most of my time if not all of it ... It definitely affects my personal life," she said. "My personal life is pretty much non-existent -- which is not good, not for the long run. Not for me, not for 'her,'" she said, pointing to her unmentionables.
Watch the video on RadarOnline.com
"It's not fun -- that's why I stay on Twitter a lot, so I can chat with my fans -- because I don't get any booty calls."