Nearly Naked Mother & Daughter Lingerie Ad Campaign Under Fire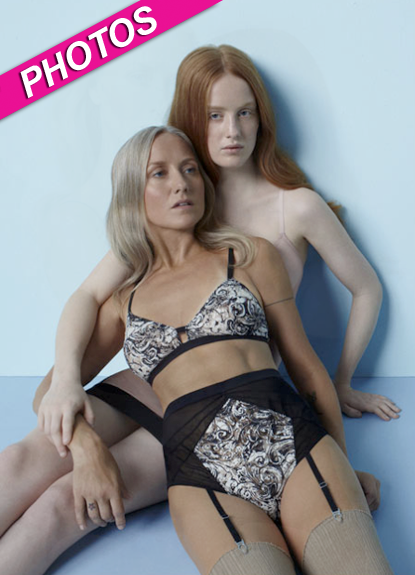 Radar Style & Beauty Editor
Is it normal for mothers and daughters to lounge around together nearly naked in their lingerie?
A new advertising campaign for a sexy and expensive intimates line, which features a mother and daughter modeling skimpy lingerie, has sparked controversy for its sexual and "incestuous" overtones – and RadarOnline.com has the photos and details.
The Lake & Stars, which was started by Nikki Dekker and Maayan Zilberman in 2007, recently launched their Fall/Winter 2011 campaign. In the images, a 19-year-old and her gray-haired mother are shown laying around in their bras, panties, bustiers and garter belts. In some of the photos, background accents include cactus plants and logs.
Article continues below advertisement
"These ads are highly suggestive. They are clearly designed to titillate consumers; mostly men," psychologist Dr. Nancy Irwin told FOX411's Pop Tarts column. "The incestuous and lesbian suggestions, with the phallic images of cactus and logs, are juvenile at best.
"I'm disgusted, yet hardly surprised by this. Advertisers (particularly of undergarments) continuously push the envelope on good taste to simply get attention and drive sales."
Irwin isn't the only one shocked by the ads.
"Maybe this is my Connecticut upbringing coming out here," wrote Jaime Peck on The Gloss, "but does anyone else find these images just a tiny bit creepy?"
One of the owners of the lingerie and swimwear line, Maayan Zilberman, was shocked that her mother-daughter modeling duo, who she claims are friends of hers, has sparked any controversy.
Article continues below advertisement
"We're surprised that people are reacting with such violently negative connotations such as incest, given that we were only making light of a healthy and beautiful relationship between two women...something we think people in our culture are often uncomfortable with," she said in a statement.
How do you feel about the mother-daughter lingerie ad campaign? Sound off below!
RELATED STORIES: