Mila Kunis Attends Marine Corps Ball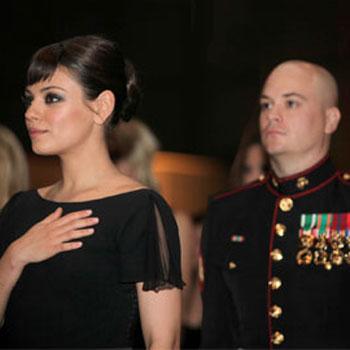 Mila Kunis kept her promise and made one Marine hero a very happy man Friday night. As the Friends with Benefits star said she would, Kunis attended the Marine Corps Ball on the arm of Sgt. Scott Moore.
The event, celebrating the 236th birthday of the Marine Corps, was held at the Greenville, NC Convention Center.
As RadarOnline.com previously reported, Sgt. Moore, in full combat gear, asked the actress to be his date via a video he posted on YouTube.
Article continues below advertisement
Mila accepted and Tweeted about how "happy" she was to be going.
It was after her acceptance that another Marine, Cpl. Kelsey De Santis, asked Justin Timberlake to be her date at a Marine gala held last weekend in Richmond, Virginia. He was also an actor of his word, and attended.
Sgt. Moore -- "you can call me Scotty" he told Mila on his video -- is a member of the 3rd Battalion, 2nd Marines, a unit that lost seven of its men during its recent deployment in Afghanistan.