Man's 'Screaming Face' Appears In Ultrasound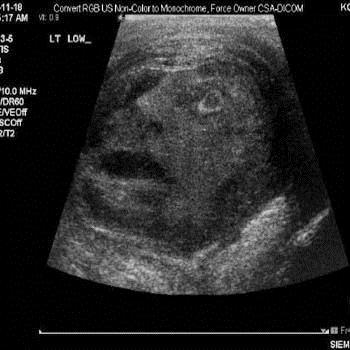 An ultrasound of a tumor sent two top docs into a state of disbelief, and not because of their medical training.
Staring back at them on the ultrasound screen appeared to be the face of a man screaming!
The 2009 image was recently discovered by Drs. Naj Touma and Gregory Roberts who were doing research at Toronto's Queen's University Medical School, and scrolling through hundreds of tumor ultrasounds.
Article continues below advertisement
"It was very ghoulish, like a man screaming in pain. His mouth was open and it looked like one eye was gouged out," Touma told The Toronto Star.
The good news for the unidentified patient was that the tumor turned out to be benign, and had been caused by an infection.
The bad news -- it was a testicular tumor and the patient had to have his testicle removed.
No wonder that face was screaming!
RELATED STORIES: