Bridesmaids Star Kristen Wiig Shows Off Her Sexy Side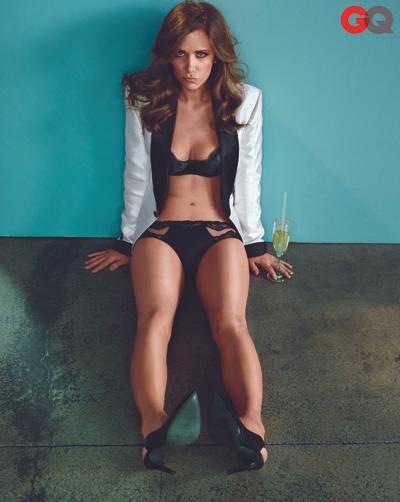 Saturday Night Live's resident funny girl Kristen Wiig is better known for her sense of humor than her killer body, but the comedienne proved she has a fabulous figure in a sexy photo shoot with GQ magazine, and RadarOnline.com has the sizzling photo.
The Bridesmaids star stripped down to her lacy lingerie and high heels for the special Men Of The Year December issue where she pouted haughtily into the camera while slumped on the floor with a glass of champagne.
Article continues below advertisement
Inside the magazine, the SNL cast member is described by her Bridesmaids co-star Jon Hamm as "incredibly shy."
"This is a woman who wore coconuts on her t*ts on SNL; she can go to the craziest, most grotesque places on the planet in character," he reveals in his tribute to Wiig.
Kristen, 38, is crowned 'Bro Of The Year' for the special issue of the men's magazine.
In the June issue of GQ, she explained the message behind the blockbuster movie that she co-wrote.
"Even in this day and age, if you're not married, there are people who are like, 'Awww! Don't worry, it'll happen for you someday.' Which is f*cking crazy," said Wiig.
"So when we were writing the movie, we were hoping to send the message that you don't have to be married to be a normal member of society."
RELATED STORIES:
Jennifer Lopez Sexes Up The American Music Awards