Exclusive
Kim Kardashian's Wedding Was A 'Hoax,' Sources Say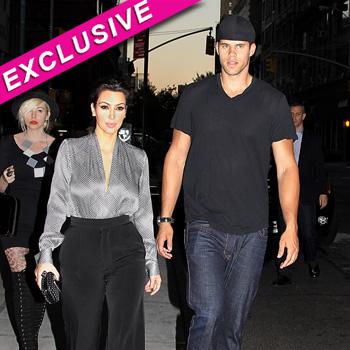 Don't believe the statements about either party being "devastated" or how they "hoped it would last forever" -- according to several well placed sources Kim Kardashian and Kris Humphries' wedding was nothing but a "hoax and a publicity stunt" RadarOnline.com is exclusively reporting.
"It was pretty much an arranged marriage right from the start," one source, close to the Keeping Up With The Kardashians production, tells RadarOnline.com. "Kim was looking for a husband and Kris was selected for her, amongst others. She wasn't really into him but she hoped she would be able to develop some feelings, but it never happened. She was never particularly attracted to him, and by all accounts absolutely hated sleeping with him or even having to make out with him.
Article continues below advertisement
"The whole wedding was a total hoax and a publicity stunt. It was great for ratings and it was an amazing money maker. That's it though, period. Kris turned out to not be as malleable as everyone hoped he would be, he was pictured out partying with other girls, Kim really couldn't care less for him, she decided to end it."
But, according to the source, this could just be yet ANOTHER big publicity stunt and the world could be subjected to round two!
"It wouldn't surprise me, in the slightest, if Kim and Kris managed to 'reunite' and the divorce filing gets brushed aside as they go to counseling and couples therapy. Basically, Kim will do anything and everything for the maximum amount of attention and TV time."
Jonathan Jaxson, owner of JJ Public Relations, and a former friend of Kim's from way back, says he's not surprised by the breakup and that although he believes the couple were dating, he too believes the wedding wasn't 100 percent for real.
Article continues below advertisement
"Part of it was publicity, she knew they were going to make a lot of money from her wedding. It made them millions," Jaxson told RadarOnline.com. "I do think she fell in love but once she got to know him and being married she realized he wasn't her match.
"It was bad for business, it wasn't good for Kim's image to be married, and I think she realized that pretty quickly. Kris just wanted a wife, he didn't care about the rest of the stuff. At one point he almost backed out and didn't walk down the aisle but there was so much money involved, it was too late.
"Everything is business for Kim now, she's lost the sense of quality of life. She doesn't want to commit the time to a relationship even though she wants one. The breakup started two weeks ago because she didn't want to be in Minnesota, and she didn't want to make New York her home. She just bought a $5million house in LA about 1`1/2 years ago, she's going to be staying there now.
"I do think it was a genuine relationship, it wasn't a genuine marriage though. It was all orchestrated for TV, it was all for show. It was just too much."
Article continues below advertisement
As RadarOnline.com previously reported, Kris wasn't Kim's first choice to be her basketball beau. In fact, before the brunette beauty met her new husband, Kim was so eager to date a basketball player that E! were calling around teams to match make their reality star with NBA athletes.
Wetpaint.com claim that E! Television staff contacted the New York Knicks to ask if hunky Italian basketball star Danilo Gallinari would be interested in dating Kim. "They asked if he would be interested in dating her and being on a reality show," a source told the website.
According to the insider, both E! and Kim were interested in having her date a big New York athlete for the debut season of Kourtney & Kim Take New York, which premiered in January 2011. "Danilo said he would love to meet Kim but was not interested in dating her or being on a reality show," revealed the insider, who added: "Even though E! explained it would be great for his career, Gallinari turned the offer down."
Article continues below advertisement
Another source echoes the sentiment that Kim and Kris' wedding was made for the cameras and that their "relationship" wasn't exactly brimming with newlywed bliss, confirming RadarOnline.com's previous report that many of the problems to trying to make the pairing work were caused by Kim's ego and insistence that it's her way or the highway.
"They lived in hotels the entire two months they were married and they never settled into a home together," the source says. "They never made any kind of permanent plans like real couples do. Everything about them was temporary, they didn't lay down any roots.