Kim Kardashian's Divorce Roasted By Late Night Comics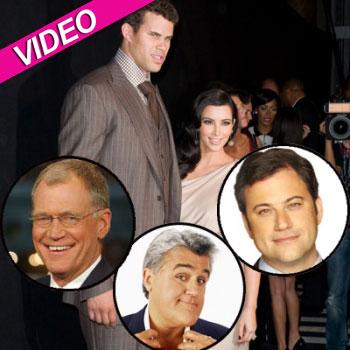 The late night hosts on Monday feasted on the bag of comedy candy that was Kim Kardashian's shocking Halloween announcement she's filing for divorce from her husband, NBA player Kris Humphries, after a mere 72 days.
Jimmy Kimmel: "She has decided not to pick his option up for another season ... Ryan Seacrest tweeted this -- that is how serious this is! Kim has asked her fans and the media give her a complete lack of privacy at this time ... I cried through every minute of that wedding special: Now, I want those 11 hours back!" (Kimmel also presented a parody skit titled, Kim and Kris Kall It Kwits.)
Article continues below advertisement
Jay Leno: "They were only married 72 hours -- but in Hollywood, that's not bad! To their credit, they tried 20 minutes of counseling! ... She said she'll put him behind her, which is ironically what got them together in the first place!"
David Letterman: "People said they had trouble, they were bickering at the altar -- now they're fighting over custody of the cake! Kim said it's not really a divorce -- it's part of a five-player trade!"
On her website, Chelsea Handler wrote, "In a shocking turn, Humphries was hoping to move to Minnesota; Kim was hoping to stay where the cameras are. Since I'm a couples' counselor in my off-time, I'd like to take this opportunity to tell my loyal readers that 'where do you want to live?' is a pretty great question to ask before you decide to wed.
"I know that since it was reported Kim made about $18 million dollars off the wedding, people are going to start saying that they were never in love and she did it for the money, and she's really, really gross. But for once, I'm here to stick up for my fellow E! Network gal. Just this morning, after the announcement of her divorce, Kim tweeted this heartfelt message: "Our store #KardashianKhaos is opening tomorrow at 9am at @TheMirageLV We are so excited!! Kardashian Khaos has arrived!" Clearly, she's devastated."
Article continues below advertisement
Watch the video on RadarOnline.com
Kardashian and Humphries, a free agent during the NBA lockout, tied the knot August 20 in a lavish wedding with stars like Seacrest and Lindsay Lohan among the 400 guests in attendance. The TV special chronicling the nuptials, E!'s Kim's Fairytale Wedding: A Kardashian Event, aired last month to huge ratings, averaging 4.4 and 2.7 million viewers, respectively, on consecutive nights.