Justin Bieber Tweets About Baby Scandal: 'All The Rumors…'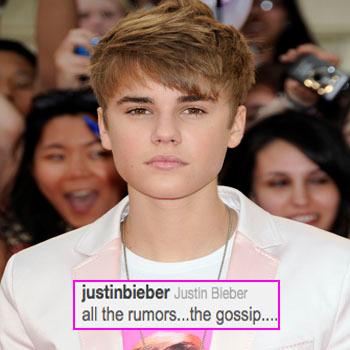 Senior RadarOnline.com Reporter
Justin Bieber hasn't spoken out publicly since Star magazine broke the exclusive news that he has been accused of fathering a baby boy with a 20-year-old woman, but he took to Twitter Wednesday to talk directly to his 13.9 million followers.
Mariah Yeater charges in court papers that she had a sexual encounter with the Baby singer last year backstage at one of his concerts in Los Angeles and that she gave birth to a baby 9 months later.
Article continues below advertisement
The 17-year-old pop star has denied the allegations through his rep but wrote twice on his Twitter page Wednesday, saying "so Im going to ignore the rumors...and focus on what is real.an opportunity to help by doing what i love. Judge me on the music! Love yall!" and "all the rumors...the gossip....Im gonna focus on the positives....the music."
Star magazine has the worldwide exclusive first picture of the baby Tristyn Anthony Markhouse Yeater, who was born on July 6. He is pictured with his mother, 20-year-old Mariah Yeater, who filed the paternity lawsuit against on October 31.
Bieber's new album, the Christmas themed Under the Mistletoe, hit stores on Tuesday and the teen singing sensation performed on Dancing with the Stars live Tuesday night, but he did not do interviews with any press.
In an affidavit sworn under penalty of perjury, Yeater says Bieber told her it was his "first time" and did not wear a condom. She is asking the court for a DNA test to prove that Bieber is the father of her baby.
Article continues below advertisement
Bieber's reps say they have not yet seen the lawsuit and slammed the woman's claims, saying: "While we haven't yet seen the lawsuit, it's sad that someone would fabricate malicious, defamatory, and demonstrably false claims. We will vigorously pursue all available legal remedies to defend and protect Justin against these allegations."
As Star magazine previously reported, when asked specifically if Bieber would take a DNA test to prove he is not the baby's father, his rep refused to answer the question directly and referred RadarOnline.com back to the original statement.