Justin Bieber: Baby Rumors 'A Lot Of Crap'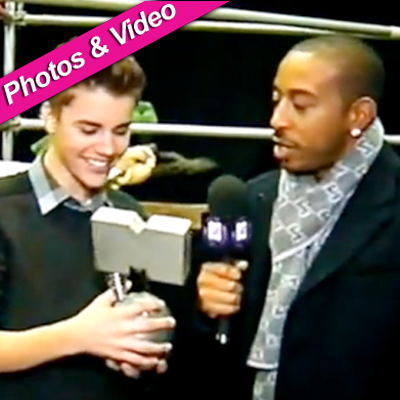 Justin Bieber calls rumors he fathered a love child "crap" at the MTV Europe Music Awards in Belfast.
The 17-year-old Canadian singer -- who last week had legal papers filed against him by 20-year-old fan Mariah Yeater claiming he is the dad of her four-month-old son -- told fans at the event in Belfast, Northern Ireland Sunday night he has "pulled through" following a tough week.
Accepting the Best Pop award at the ceremony --where he was also named Best Male -- Justin said: "Yo, two awards in the past 60 minutes. There's been a lot of crap on the internet lately, but I've pulled through."
Article continues below advertisement
First Photo Of Justin Bieber's Alleged Baby
The Baby hitmaker's girlfriend Selena Gomez -- who was hosting the ceremony -- later commented to Katy Perry: "He's cute, isn't he?"
Yeater has request the pop superstar takes a DNA test to prove he is the father of her baby.
Justin is adamant he has never even met Mariah -- who claims their brief tryst took place after the singer performed a concert at Los Angeles' Staples Center last October.
He recently said: "Never met the woman. I'd just like to say, basically, that none of those allegations are true. I know that I'm going to be a target, but I'm never going to be a victim.
"It's crazy. Every night after the show I'm gone right from the stage right to the car, so it's crazy that some people want to make such false allegations.
"To set the record straight, none of it is true."