David Letterman To Justin Bieber: 'I Can Smell A Weasel'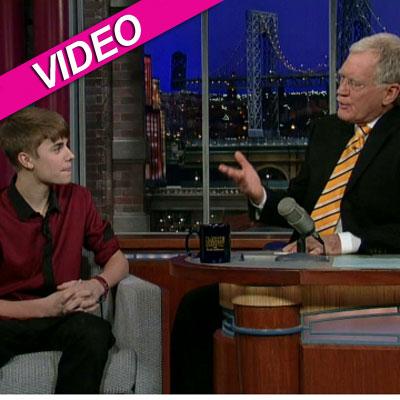 Justin Bieber appears on The Late Show with David Letterman in a pre-taped interview Wednesday night, and addresses his ongoing scandal involving 20-year-old California woman Mariah Yeater, confirming he recently took a paternity test to see if he's the father of her 4-month-old boy.
Letterman asked the pop star about the fiasco, adding it made him "see red.
"I was so angry," said Letterman, who's been targeted by stalkers and an extortionist throughout his vaunted career. "I can smell a weasel."
Article continues below advertisement
Bieber replied, "I could smell a weasel too, a little bit," adding he understands he's open to false accusations, and such, being a public figure "in the spotlight."
People can say whatever they want, Bieber said.
Bieber told Letterman he recently underwent a DNA test to put the issue to rest once and for all, noting the simplicity of the complicated procedure.
"They just swab your mouth," he said.
Watch the video on RadarOnline.com
As we previously reported, Yeater claims she and Bieber had an unprotected, 30-second fling in a backstage bathroom at the Staples Center following an October 2010 concert in which she became pregnant with her son Tristyn Anthony Markhouse Yeater, who was born July 6.
First Photo Of Justin Bieber's Alleged Baby
Bieber initially told the Today Show he's "never met" Yeater and that "none of these allegations are true."