Jessica Simpson Says She Passes Gas 15X More Than The Average Person!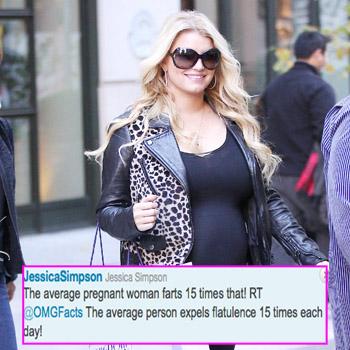 By Amber Goodhand - Radar Reporter
Jessica Simpson has never been the shy type, but this might have been crossing the line!
The pregnant singer and fashion designer opened up Friday afternoon on her Twitter page — about her farting habits — and RadarOnline.com found out she admitted to passing gas 15 times more than the average person.
Jessica, 31, retweeted a post from OMGFacts that stated: "The average person expels flatulence 15 times each day!"
Article continues below advertisement
"The average pregnant woman farts 15 times that!" She added in response to the over-the-top fact.
Turns out it's not the first time Jessica's spoken on the subject. In 2010 it was reported, "While one of the executives was speaking in a room full of five people, Jessica let out a very large fart."
And while Jessica filmed Newlyweds with ex-hubby Nick Lachey she was caught on camera letting one rip and telling Nick, "You love my stinky ass."